In the culinary world, there are just those pairings we know of that are just classics. You know what I'm talking about right?
Lamb and mint, poultry and sage, apples and cinnamon, and of course… tomatoes and basil! I don't know why, but throughout my entire life I hated basil with a passion until recently. Perhaps it's slight licoricey flavour is an acquired taste but I've become obsessed lately! I'll put it in salads, sauces, and even with fruit (balsamic strawberries + basil = heaven). But of course I had to pair it with it's best friend for a recipe!
I distinctly remember having my very first stuffed tomato a few years ago at my friend Kelly's house for a little party. It was so freaking good, especially since she stuffed it with risotto, goat cheese, and a hellabunch of yummy melting goodness. But I mean, how can you not like anything that's stuffed?!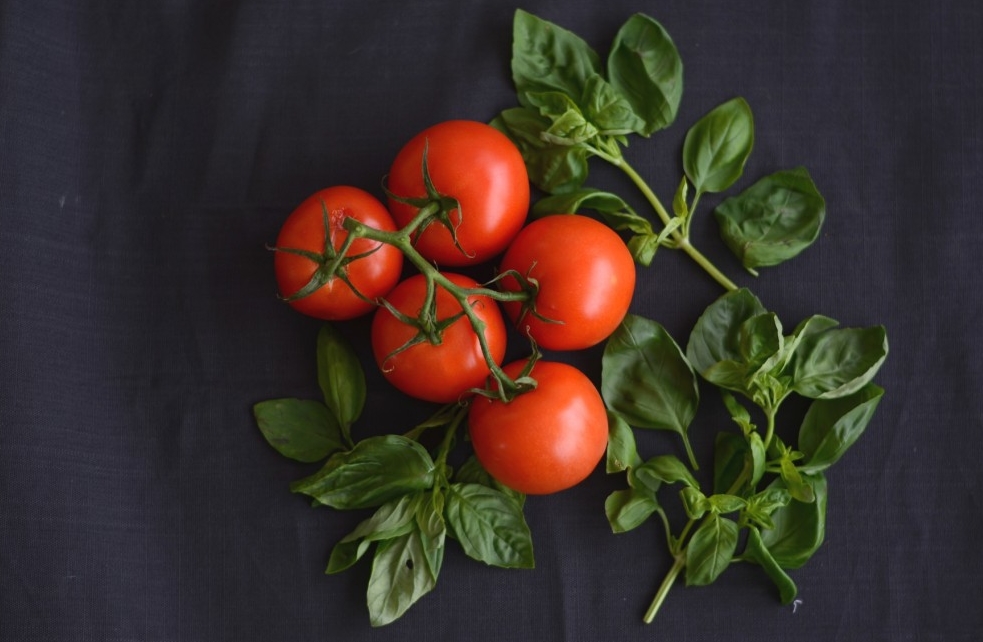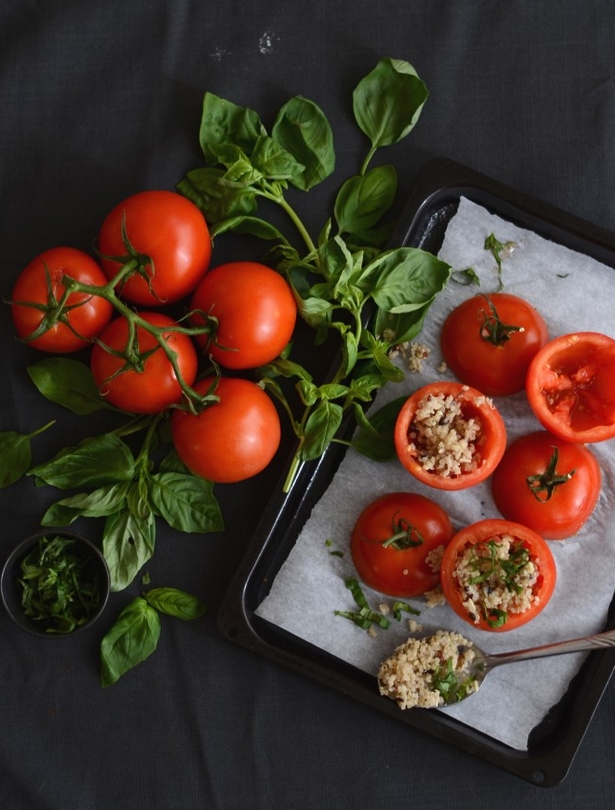 Not only is this recipe delicious, but it's also fan-freaking-tastic for you. It's been shown that basil has a huge amount of antioxidants and antibacterial properties! It's full of vitamin K to help promote proper blood clotting and it's essential oils have an incredible amount of flavinoids (the good stuff!). Tomatoes on the other hand are full of vitamins A, C, K, and this fruit is high in potassium and low in sodium so you know it's heart healthy! One of my favourite things about tomatoes are the fact that it's rich in lycopene, which is shown to help protect your skin from UV damage as well as strengthen your bones!
What you choose to stuff the tomatoes with is really up to you I guess, but I really liked using a blend of quinoa and wild rice here just to get a few good servings of grains and complete proteins in there. What I love about using whole grains is the fact that not only are they much healthier for you compared to processed grains, but they've also got the most amazing nutty flavour too!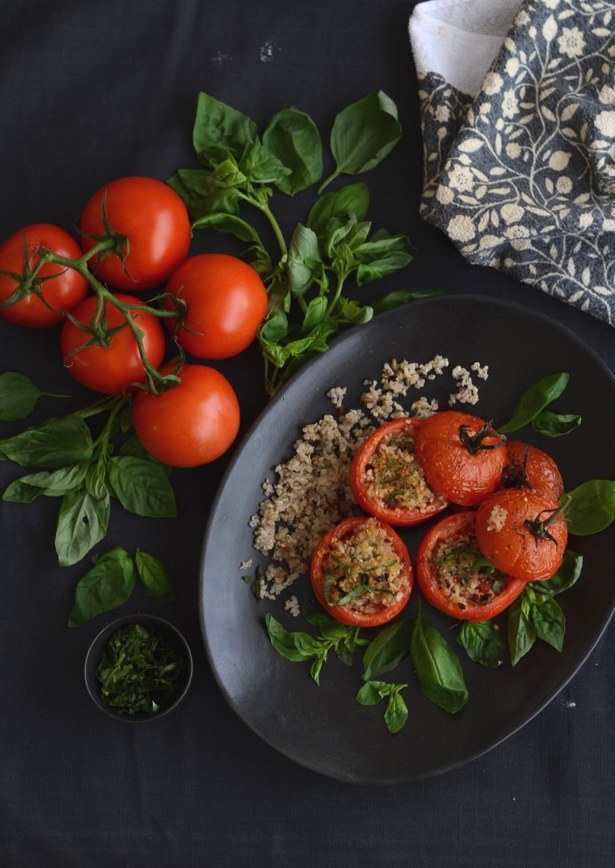 Stuffed Tomatoes with Basil, Quinoa, & Wild Rice
Makes 6 large stuffed tomatoes
Ingredients:
– 6 large tomatoes (I used tomatoes on the vine because they're prettier – you want to get ones that are nice and round, and not oval since they obviously won't stand up)
– 1 cups each of cooked quinoa and wild rice (or whatever you want to use to fill)
– 1/2 cup of basil, finely sliced into a chiffonade or just chopped
– feta or goat cheese (optional)
– olive oil
– salt & pepper
Directions:
1. Cut the tops off your tomatoes, but don't throw them away!
2. Using a spoon, scoop out the insides of the tomatoes. You can use it for gazpacho or whatever you'd like if you don't want to waste it. You might need to use a knife to help you remove the insides, but make sure you don't puncture through the tomato.
3. Prop the tomatoes against each other on a lined baking tray, and use the tops as "stands" to help make sure they don't topple over.
4. In a bowl, mix together your cooked quinoa and wild rice, a drizzle of olive oil, salt & pepper, cheese (if you'd like) and the majority of the basil. Save some of the basil to garnish later on!
5. Fill the tomatoes up to the top, and give everything a small drizzle of olive oil across the top!
6. Place the baking tray into an oven preheated to 400F and cook for about 20-25 minutes, or until the tomatoes are nice and blistered from the heat!
7. Take them out, garnish with the remainder of your basil, and serve!
As usual, try it out, and let me know how it goes!