Beer Infused Couscous Clam Pilaf
Beer and summer go hand in hand, and I may or may not be writing this post under the slight influence of some amazing Samuel Adams beer! So I was approached by these amazing guys to do a beer infused recipe, and how could I pass up such an awesome opportunity?!
I'm not a huge alcoholic or anything, but I do love a good hoppy beer in the summer time, and the Boston Lager I got had the best bitter "hang" I've ever tasted. I'm not a fan of super sweet or fruit infused beers because sometimes I find that they just taste like juice, but the Boston Lager from Samuel Adams is so perfectly balanced I think that I might actually have a new favourite go-to beer!
So upon beginning my brainstorm for ideas to use the beer in, the first thought I had was to do something with seafood! Vancouver is known for its abundant, fresh, and stellar seafood so I chose to go after some delicious manila clams! Clams in general have a sweet briney flesh that I feel pairs great with the bitterness from a lager that perfectly balances out each other. In addition, I use a LOT of basil here, but that's because the slight licoricey scent of basil pairs great with the herbaciousness of this lager as well! In the end, what you're left with is an intense, complex, but yet very palatable dish that my friend and I greatly enjoyed!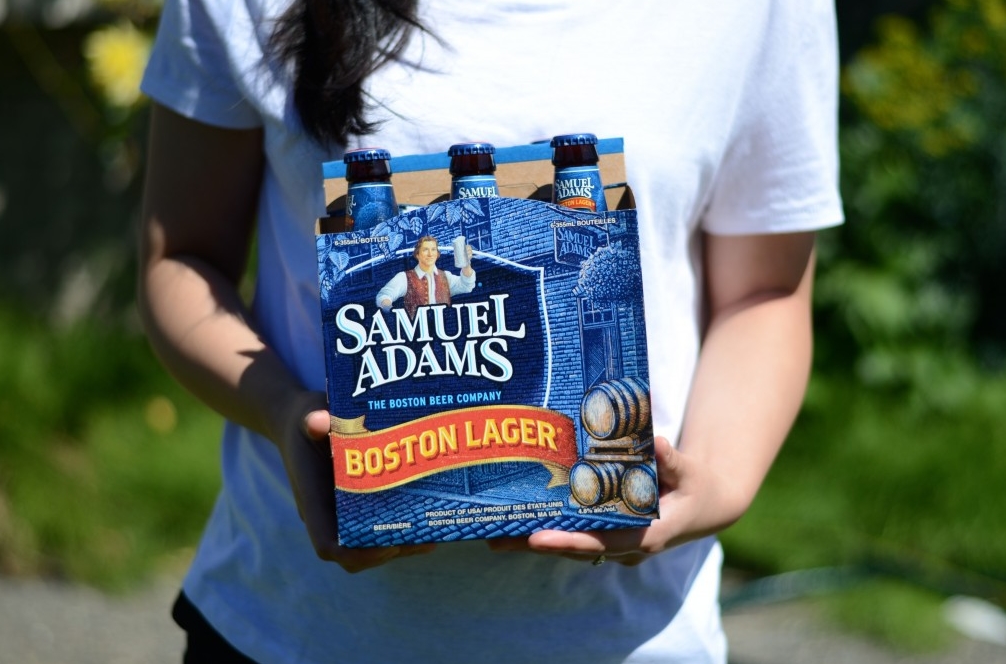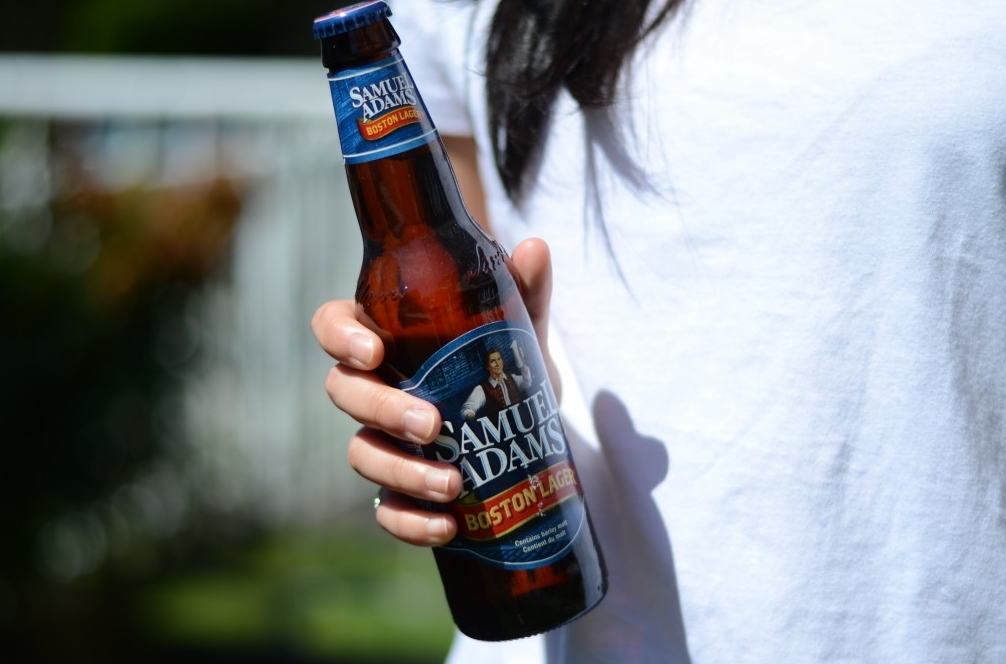 I used couscous in this recipe because it is super fast to cook, absorbs any flavour you put into it, and is just a great easy way to make something to mop up the delicious juices from the clams that meld with the fantastic beer in this recipe!
Beer Infused Couscous Clam Pilaf:
Serves 3-4 people
Ingredients:
– 1 cup of picked basil
– 3-4 rashes of bacon
– 1.5 cups of dried couscous
– 1/2 a large white onion
– 2 cloves of garlic
– 3/4 bottle of Samuel Adams Boston Lager
– 1 tablespoon of honey
– 1 cup of chicken broth
– 2/3 cups of boiling water
– lemons (optional)
– pitas (optional)
– pepper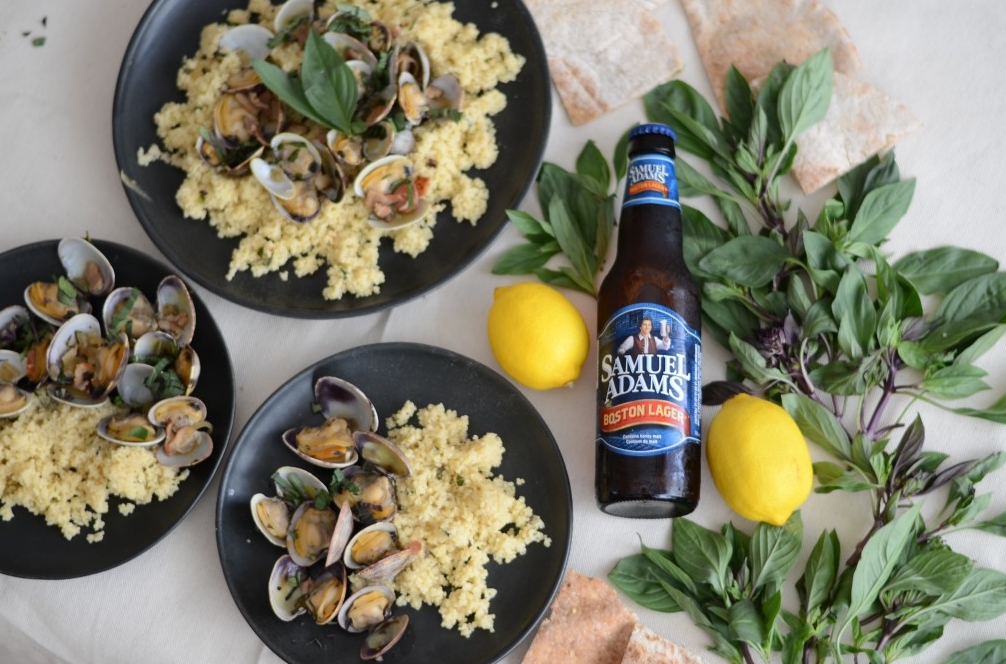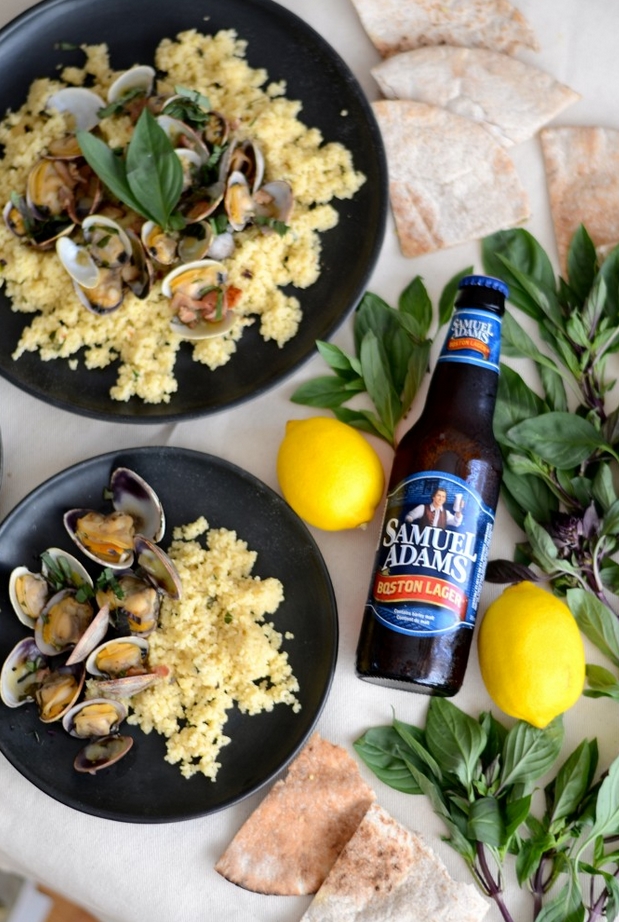 Directions:
1. Chop up your onion, garlic, and bacon into a fine dice. Throw your bacon into a hot pan and let the fat render before putting in the onion and add a pinch of salt. Cook until it is translucent and throw in the garlic.
2. Once everything becomes fragrant, put in about 1/2 of your basil that's been chopped up or chiffonaded
3. Let this cook down for a minute or two, and pour in 3/4 bottle of the Samuel Adams Boston Lager and let reduce for about 3-4 minutes.
4. Pour in the chicken broth and let it come up to a boil.
5. In a separate container, take out about 1/2 cup of the stock you've made in the pan, and combine it with 2/3 cup of hot water and add to the dried couscous (you may need to adjust the liquid quantities according to your brand of couscous and do so accordingly) and let it soak it up to cook
6. Throw the clams (after they've been soaked in cold water for about 15 minutes) into the pan and cover with a lid to allow to steam
7. Once all the clams have opened up, finish with a tablespoon of honey and freshly ground pepper, and serve over the couscous!
8. Serve with a squeeze of lemon, some freshly toasted pitas, and of course, the remainder of your fresh basil!
So there you have it!
Try it out, let me know how it goes, and make sure you give Samuel Adams a try!
Disclaimer: This post was sponsored by Branding and Buzzing