Best Whisk for Kitchen Reviewed
Have you ever tried to find the secret behind all the delicious items they make at home? Whether it is the finest soup you ever had or the softest cake you ever tasted, all of them include this secret kitchen tool, Whisk! Yes, a whisk can do all of these wonders in the kitchen when you are trying your best to satisfy your taste buds.
So if you want to jump on step ahead of your kitchen expertise or are new into cooking and baking, add a whisk to your buying list. Next time you are out there buying groceries, some simple kitchen tools and accessories, make sure you get a whisk as well. It will largely add to your amazing cooking and baking experience. Also, it helps you learn a lot.
What makes a great whisk?
Before we get into product reviews, you need to know what makes a great whisk. There are a number of different elements ranging from design to handling that contribute to making a good whisk. Looking into such things will help you find the best whisk for your kitchen.
The wires of a good whisk never interfere with each other and so, do not disrupt whisking. In fact, the accurate positioning and sizing of wires lead to better whisking than you would have otherwise.
The wires should be designed in a way that they are closely placed. This allows doing things like mashing potatoes. Also, it adds to the strength and durability of a whisk. So, the wires should be strong and stiff.
The whisk must feature great gripping power, so it is not an inconvenience to use a whisk. This makes sure the whisk never slips out of your hand.
Little weight is another important factor. The whisk must be light enough so as not to make your arm tired.
With such things in mind, you can get a quality whisk for yourself.
Top Whisks Reviewed and Approved by Jason
Let's get into product reviews of the top 7 whisks we found out there.

1. OXO Good Grips 11" Balloon Whisk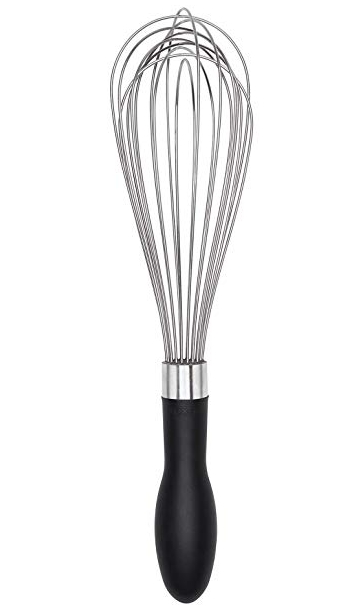 OXO Good Grips Balloon Whisk is one of the best non-stick whisks. It comes with stainless steel wires and features a narrow shape. This shape is perfect for handling ingredients in a thin, small bowl or container. The 11″ size further adds to the use of this whisk as it is usually known as the ideal whisk size being neither too large nor too small.
When it comes to the handle, it is quite soft yet supple. Coming with the ability to absorb pressure, this handle is expertly designed. Featuring a teardrop shape, it allows a non-slip grip. Even if your hands are a bit wet, oily or sweaty, the whisk does not go out of your hand. No matter how long you use this whisk, the handle ensures great comfort and convenient handling.
Its small and compact size makes it easy to store it with your other basic kitchen tools so that you do not lose it. It takes up a little space and fits, among other tools, well.
Talking about its versatility, the OXO balloon whisk is great for doing different whisking jobs. We admire the variety of use it has to offer. Whether you want to batter cake mixture, whip an egg or make soup, this whisk is an ideal choice.
There's another great thing about its design and construction. This whisk is constructed in a way that the water does not run inside the whisk and settle there while washing dishes.
The stainless steel wires are quite sturdy and strong. The spacing between wires is exceptionally well, and so, the mixture whips really well. The wires are so stiff that they are not going to bend no matter how thick or hard the mixture is.
What I like?
I liked the versatility it has to offer. Some whisks are designed for a specific whisking job only, but thankfully, the OXO balloon whisk is not one of them. Another thing I found unique is the teardrop-shaped handle that offers maximum comfort and usability. With all such great features and specs, this whisk deserves special consideration when you are out there getting your whisk.

2. Ouddy Stainless Steel 3-Piece Whisk Set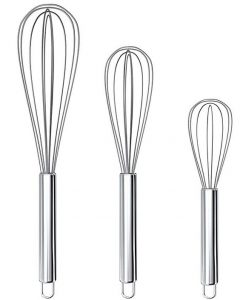 If you are looking for a professional whisk, the Ouddy Stainless Steel 3-piece whisk set is the one. It features stainless steel construction with double polish that resists against rust and other corrosive elements. This adds to the durability and quality of this whisk set.
All the three whisks are designed to offer maximum comfort and control – and the credit goes to the ideal sense of balance between handling and performance this whisk comes with. The non-stick and dishwasher friendly properties of these whisks make them further unique and outstanding. These are not only easy to use but easier to clean as well. You need not worry about the mixture sticking to the wires. It will all be gone underwater in a second.
These whisks come in a compact size, which allows you to store them in kitchen drawers quite conveniently. They are not going to take up a lot of space. You can keep them with your other tools and utensils. However, if you do not prefer keeping them in a drawer, simply hang them using the attached hooks at the end.
The great design and functionality render professional use making it a great option for beginners as well as professional cooks and bakers.
Furthermore, this whisk comes in three different sizes – 8", 10" and 12". This allows you to choose the best whisk suited to the use. You can make several different dishes using one or all the three of whisks together.
No matter which one you go for, you are going to have a profound experience. The stainless steel wires are quite strong and well placed. This greatly adds to the ease and comfort of use.
The best thing about the Ouddy Stainless Steel 3-piece whisk set is the replacement and refund option it comes with. The company offers a replacement as well as a full refund if you find the whisks incapable or low quality.
What I like?
The hook feature that helps in hanging these whisks is a unique thing. Further, I liked the versatility of use and size that comes in this whisk set at such an affordable price. Truly a great addition to your kitchen.

3. AmazonBasics Stainless Steel 3-Piece Whisk Set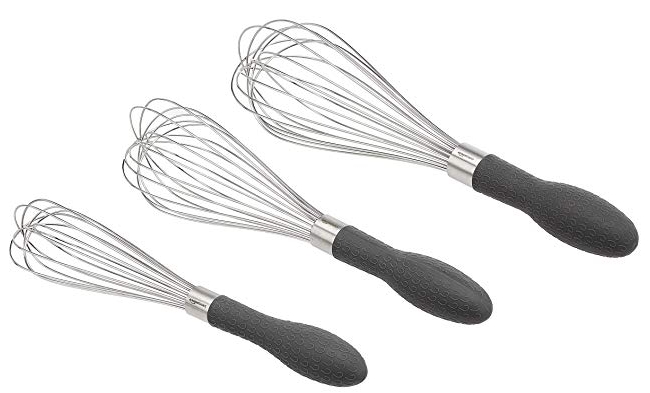 If you do not quite like the sizing of the Ouddy whisk set, I have another whisk set for you on the list. This one comes from AmazonBasics – one of the top kitchen tools and utensils manufacturer. Made of stainless steel, these whisks are strong and durable. You will never have to face a problem with wires such as bending, rust, or corrosion.
These come in three different sizes – 9″, 10″ and 11.5″. Whether you use the smaller one, medium, or large, make sure you choose one according to the whisking need. Whipping an egg goes great with small 9″ whisk, whereas you need to pick up 11.5″ whisk for mashing potatoes and whisking thick mixtures. As you have your cooking and baking experience, you will learn which one to use.
As far as the shape of these whisks is concerned, these come in a balloon shape. This popular shape is known to be ideal for whipping. That's why most of the whisks have this common shape. Also, this type of whisks is perfect for everyday use.
When it comes to comfort and handling, you will be happy to learn about the comfortable and secure handle this whisk features. The handle is contoured to the shape of the fist and is really solid. It makes sure you do not end up tired as your dish gets prepared.
If you are thinking about cleaning, know that these whisks are dishwasher safe and so easy to clean. Simply put, it under running water, and dishwasher helps let go off the sticking mixture. As the most whisking mixture gets thick over time, they stick badly. Low-quality whisks are rendered useless after a single-use, but high-quality whisks like AmazonBasics are the ones you will admire.
Moreover, these whisks come with a one-year warranty, provided your whisk gets rust, or the wires bend. You can simply replace your whisk with the new one.
What I like?
What makes this whisk set unique is the different and good sizes. Also, the balloon shape offers great kitchen experience and helps in comfortable use. The contoured handle is another thing I highly acknowledge at this affordable pricing.

4. The Original Danish Dough Stainless Steel Whisk

All the bakers out there need to add The Original Danish Dough Stainless Steel Whisk right to their kitchen shelves or drawers. It offers ideal baking experience and is specially designed for pastries, pizzas, and everything else you can bake in your oven. This Dutch-style whisk largely adds to your baking experience and makes it fun all along.
Its professional design stands for the variety of use it has to offer. Designed with utmost expertise to feature a sense of control and balance makes this whisk unique out of all. Its high-quality, durable stainless steel and wood construction ensures higher functionality. No doubts, it is made to last.
While the wires are made of professional-grade stainless steel, the handle comes with strong and sturdy wood. The wood is great to be durable as well as to handle and use. It offers comfort as you use your whisk.
This whisk is professionally designed to handle thick and tough doughs that common balloon whisks cannot handle. If you ever had your whisk broken, it's time to switch to The Original Danish Dough Whisk. With this whisk, you can say goodbye to the trapped dough in the whisk. This whisk is designed in a way that the dough never traps and only refines.
You might not consider it a whisk looking at the minimal wires. However, you will be surprised over the baking expertise and easy cleaning the closed-circuit design offers. The dough is not going to clump in between and stick to the wires. Being dishwasher friendly, you can clean it quite easily.
Furthermore, The Original offers a 100% money-back guarantee over its Danish Dough whisk. If you simply do not like the functionality or find the product, not of your use, you can return it to get a full refund.
What I like?
I loved the professional baking design of this whisk. Finally, there's a whisk out there that unlocks the secret to amazing pizza doughs and pastries mixture. If you are into baking, this whisk is for you. Everything from construction to strength and functionality is simply awesome.

5. Muclipkot Kitchen Wire Whisk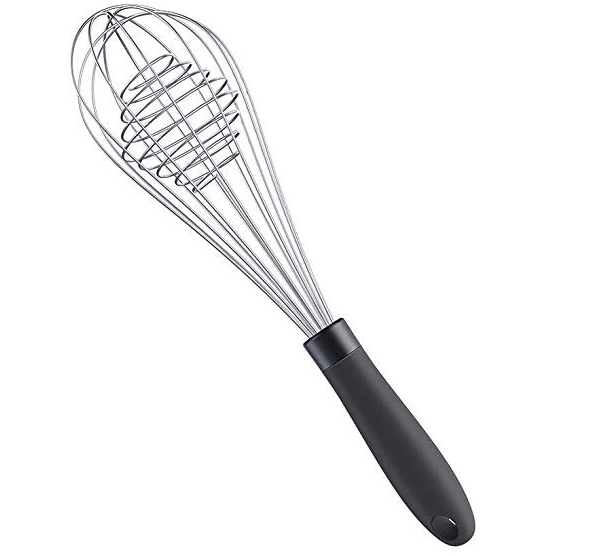 Here we have another balloon-shaped whisk on the list. The only difference is that Muclipkot Kitchen Wire Whisk comes with an egg beater designed within the whisk as well. This makes this whisk incredibly unique. If you have been looking for a whisk for your egg mixtures, know that this one is perfect.
You can whip the eggs along with whisking the mixture at the same time. You need not switch to a different whisk now and then while you prepare your dish. The open tip design mixes the mixture really well and breaks up all the ingredients in no time. With this whisk, preparing a balanced mixture is going to take no time.
When it comes to the wires, this whisk has perfectly placed wire with the most accurate spacing. This makes sure the wires never overlap. You will be surprised over the use and functionality this whisk has to offer. It can also be called as 2-in-1 whisk as it helps in double whisking using inner and outer whisk at the same time. This allows for handling hard and thick mixtures really well.
Moreover, the whisk comes in large 12″ size, however, compact. Being quite slim, it is easier to grab and store this whisk. You can easily place it in your kitchen drawer or cabinet. If you do not like either of these, the whisk features hook design at the end. You can hang it up on the nail in the wall or to your kitchen tool hooks.
The 12″ size is good enough to handle lots of mixtures. If you always tend to make lots of baked or cooked food, you need a sturdy whisk that can handle the quantity of mixture amply. I am happy to have come across this whisk that offers dual functionality with increasingly satisfying better results.
So what are you waiting for? It's time to add this whisk to your kitchen!
What I like?
I liked the dual functions this whisk has to offer at the same time. The balloon-shaped whisk along with egg whipper within is designed to offer professional experience. Tools like these are rare!

6. Ludwig Scandinavian-Type Whipper Whisk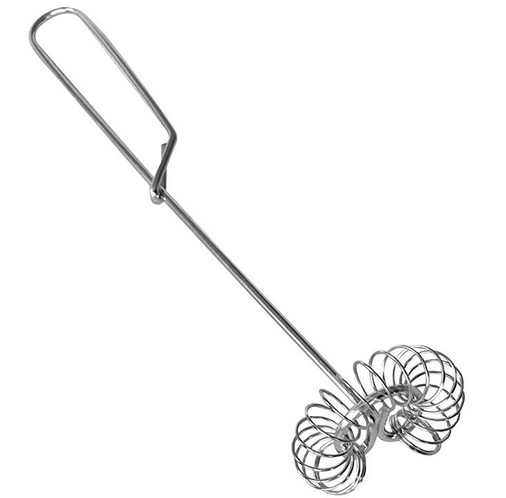 Here's another unique shaped whisk making to the list of top best whisks out there. Ludwig Whipper Whisk features a Scandinavian-type whipper that is extremely versatile and sturdy. It comes constructed with the USA made stainless steel, which guarantees the durability and strength it has to offer. This Scandinavian style whipper whisk is all you need for better mixtures and perfect blend.
Coming in a compact shape, this whipper whisk fits mixing bowls and containers very handily. You will be surprised knowing that the size and design are amazing enough even to mix the blend in a cup. The wires are so accurately spaced that you are never going to have your mixture non-uniform appearance.
It breaks all the ingredients in no time to deliver great results. However, when it comes to the handle, I ended up a little disappointed. The stainless steel thin handle might make it difficult to position your fingers around the whipper whisk. If you are going to work in the kitchen for a long time and have lots of mixtures to prepare, your hand might feel tired in the end. But, the quick functioning and rapid results of this whipper whisk make up for the uncomfortable handle.
As the mixture gets uniformed really quickly, you need not whisk for more than 3 to 5 minutes – depending on the type of mixture, though. The eggs get whipped in less than a minute, while soups and cake mixture might take some time. The rest depends on your professionalism and expertise.
Moreover, Ludwig Scandinavian-type whipper whisk comes in two different sizes to choose from. You can either get the one with a smaller whipper or the larger one. Also, you can choose to have both as well.
What I like?
This whipper whisk comes in amazing and unique Scandinavian style, and that's what I like the most about it. This professional design helps in making perfect blends in a go. Get this whisk and enjoy your cooking and baking!

7. WMF Profi Plus Ball Whisk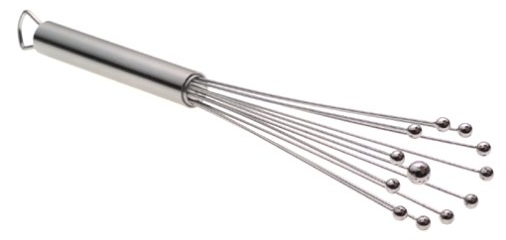 If you are looking for a ball style whisk, this one makes a great option. If you are not, you might end up impressed with the design and functionality of this WMF Profi Plus Ball Whisk. You will be glad to know that WMF offers two different types of balls for this whisk. First – silicon balls and second – Stainless balls.
The silicon balls are heat resistant up to 518 degrees Fahrenheit. The best thing about these heat-resistant silicon balls is that they do not react with non-stick surfaces. If your mixing bowl is made up of non-stick material, using this silicon ball whisk is the best idea. This comes handy when you are preparing sauces, puddings, and soups overheat and need to whisk them from time to time.
However, if you do not like the idea, you can choose to go for stainless steel balls. These make the whisk more durable and sturdy. The stainless steel ball whisk is best for preparing and blending mixtures in mixing bowls that you will place over heat afterward.
When it comes to the wire, Profi Plus features thick wires. This allows mixing thick mixtures really well, such as pancake batter or mixing a lot of egg whites together. Overall, this ball whisk is highly versatile.
Being dishwasher safe and due to its open design, it is really easy to clean the mixture off this whisk.
Also, the handle is long to offer a comfortable grip. When dealing with the mixture in deep bowls, you will realize the significance of its handle as well as the angled head. The ball whisk further allows easy storage and comes with a hanging loop.
What I like?
What I liked the most about this ball whisk is its unique design that helps in effortless mixing and blending. Also, each of the two types of balls offers great functionality. I loved the silicon heat-resistant balls type, which keeps your mixture overheat perfect and keeps the whisk safe as well.

Frequently Asked Questions (FAQ)
1. What is a kitchen whisk?
A kitchen whisk is a cooking utensil consisting of a handle with a series of wire loops joined at the end. It is used primarily for stirring, whipping, and beating foods to incorporate air, mix ingredients, or create a smooth texture.
2. What are the different types of whisks?
There are several types of whisks, including:
Balloon Whisk: Characterized by its bulbous shape, it's perfect for whipping light mixtures like creams and egg whites.
French Whisk: A longer, narrower version of the balloon whisk, it's great for sauces and gravies.
Flat Whisk: Laid out in a flat shape, it's used for smoothing out sauces in shallow pans.
Ball Whisk: Has individual balls at the end of each wire, designed for better aeration.
Coil Whisk: A spring-like design used for quick whisking tasks.
Dough Whisk: Designed with a thick, stiff wire loop to mix heavy doughs.
3. How do I choose the right whisk for my cooking needs?
Consider the task at hand:
For whipping cream or egg whites, use a balloon whisk.
For making gravies or sauces, a French or flat whisk may be best.
For general-purpose mixing, a balloon or French whisk will work.
For thicker doughs, opt for a dough whisk.
4. How do I clean and maintain my whisk?
Always wash your whisk soon after using to prevent food from drying and sticking.
Use warm water and mild detergent.
For stubborn residues, soak the whisk for a few minutes before washing.
Some whisks are dishwasher-safe, but always check the manufacturer's guidelines.
Dry thoroughly before storing to prevent rust.
5. Can I use an electric mixer instead of a whisk?
While an electric mixer can perform many of the tasks of a whisk, they're often used for different purposes. Whisks allow for more control and are ideal for tasks that require finesse, such as folding ingredients. Electric mixers are best for heavy-duty tasks or when convenience and speed are paramount.
6. Are there materials to avoid when purchasing a whisk?
Stainless steel is the most popular and durable material. Avoid untreated aluminum whisks as they can react with acidic ingredients. If using non-stick pans, consider silicone or plastic-tipped whisks to avoid scratching.
7. Why is my whisk rusting?
Whisks, especially those not made from stainless steel, can rust if they're left wet or not dried properly after washing. Always ensure your whisk is dried thoroughly after cleaning.
8. Can I use a whisk for non-culinary purposes?
Certainly! Whisks can be used for various tasks outside the kitchen, like stirring paint or as a playful cat toy. However, if you use a whisk for non-food purposes, don't use it for cooking again.
9. Are there alternative tools to a whisk?
Forks can be used for light whisking tasks. In the absence of a whisk, a fork can help beat an egg or mix a dressing, though with less efficiency.
10. Why are there so many loops on a whisk?
The loops or wires increase the tool's efficiency by helping to incorporate more air into the mixture, leading to a smoother, fluffier result. The design also helps in breaking up clumps and ensuring even mixing.
Conclusion
A whisk that offers a great blend and is ideal for my baking and cooking is what I have always looked for. Coming across a few of them, I felt it important to make a list and share the top whisks with people like me. Nothing hurts more than a disaster dish after hours of effort in the kitchen. To avoid that, I have been finding some secret kitchen tools. And to my experience, whisks are one of them.
Whisks play an important role in preparing the mixture and getting the final taste. A mixture that is not whisked well and has lumps makes all your effort go waste. To avoid that, make sure you get one of the best whisks listed above.
Also, keep in mind the important factors such as wires, design, and handle in mind to make the most out of your whisk. This way, you can prepare the best pancakes, cakes, pizzas, pastries, and what not!
So, what are you waiting for? Get the whisk that goes best with your cooking and baking requirements!