BoyWithAKnife's Wedding Debut!
Something old, something new, something borrowed something blue. You know what they say at weddings right?! Well there was definitely something new in Vancouver this past saturday! My friend Brandon's brand spanking new catering company Boy With A Knife catered to their very first wedding ever!
I've been working with Brandon for the last year or so, and he's seriously one of the funniest and best chefs around in Vancouver. He's finally taken the leap and taken on his own business and I've got to say…. about freaking time! If you've been following my blog here and there throughout the last year, at least 60-70% of the SUPER PRETTY food photos are his creations and I'm so glad that his talents are finally coming into the spotlight here in the city.
Now this wasn't just any wedding, it was actually two of Brandon's really good friends' wedding which made the whole event all the more special! Brent and Clay tied the knot in the prettiest little courtyard ever in the Dr. Sun Yat-Sen gardens in Chinatown surrounded by their friends and family and boy were they a fun bunch. Everybody loved the food, the music was great, and even though the heat outside was sweltering, the day could not have gone any better!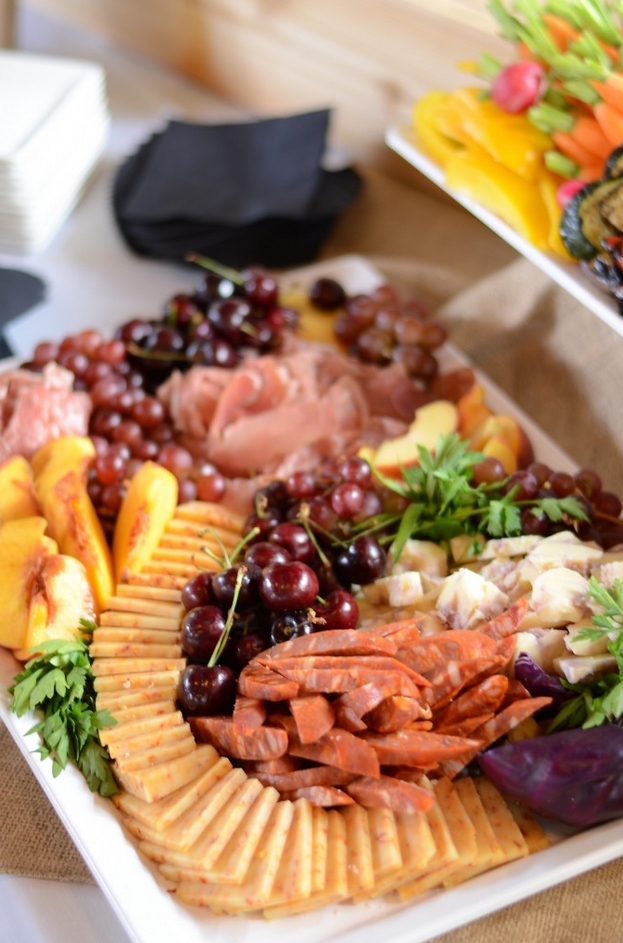 The quench the thirst of the wedding attendees, Brandon prepared a few types of alcohol free beverages for everyone to sip on. There was a delicious ginger and peach tea, chrysanthemum tea, as well as a lemon, mint, and cucumer water that was unbelievably refreshing. To top things off, everything was in super nice glass dispensers that looked like they came straight out of pinterest and I must've taken a million photos of them. King of redundancy right here.
One of my favourite things about Brandon's events are his platters. Everyone knows I'm a sucker for presentation (which pretty much explains 90% of all purchases I make in my life) and Brandon has got his presentation skills super fine tuned and everything he turns out looks amazing. But let me just talk about cheese for a second – yeah, cheese. When Brandon's business partner and buddy Sean told me about the truffle cheese they put on the cheese and charcuterie platter, I had to sneak in a little bite and it was the fucking bomb. I'd gladly convert into a ketogenic diet just so I could justify stuffing my face all day every day with the stuff. To accompany that, we also had an amazing veggie platter with grilled eggplants, red peppers, and a variety of fresh produce accompanied by a red pepper and cream cheese dip with a whole bunch of fragrant herbs like dill (pictured below)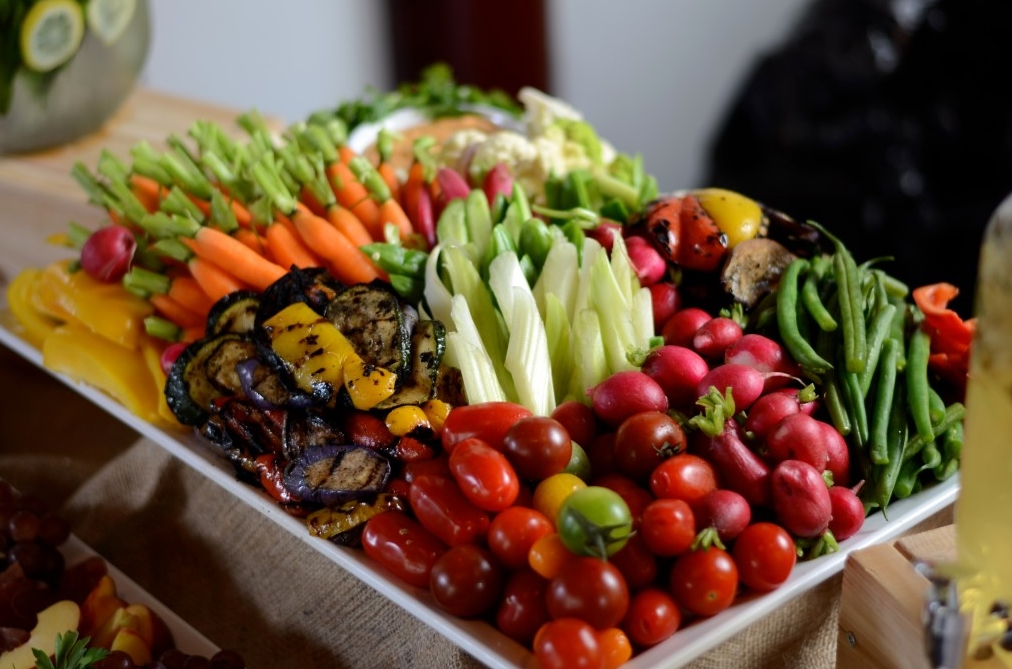 Picture perfect food right there!
We also served a few canapes and little bites here and there. For instance, we had dungeness crab salad with avocado, wasabi and sesame, pulled pork sandwiches, ahi tuna sliders with wasabi mayo, and a whole variety of other goodies. Also, Brent was actually lactose intolerant, but somehow Brandon was still able to make a lactose free version of mac n cheese and stuff -crazy delicious stuff.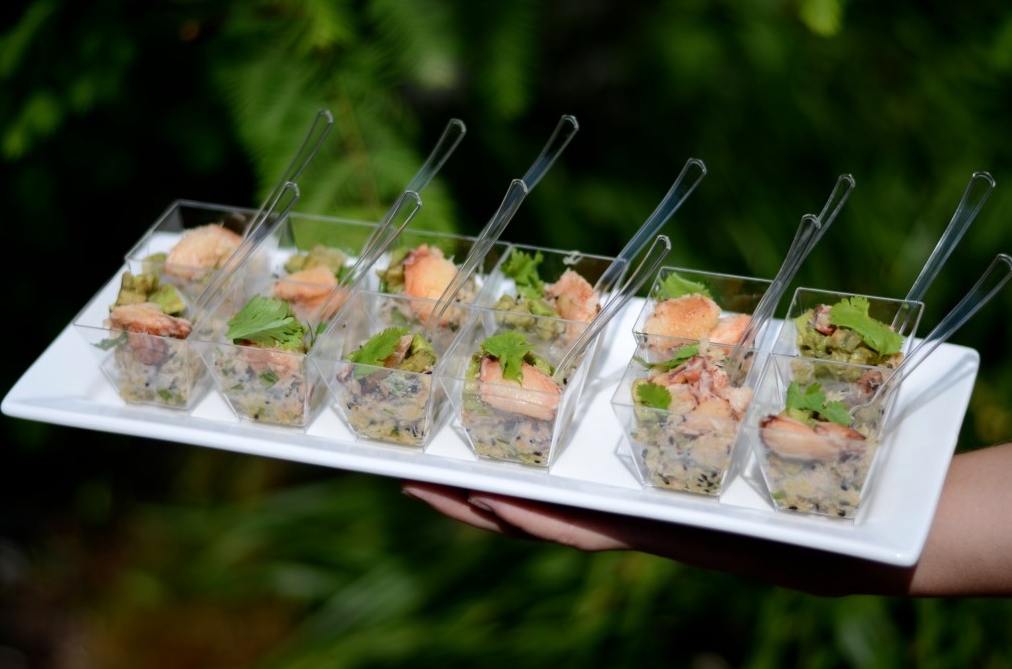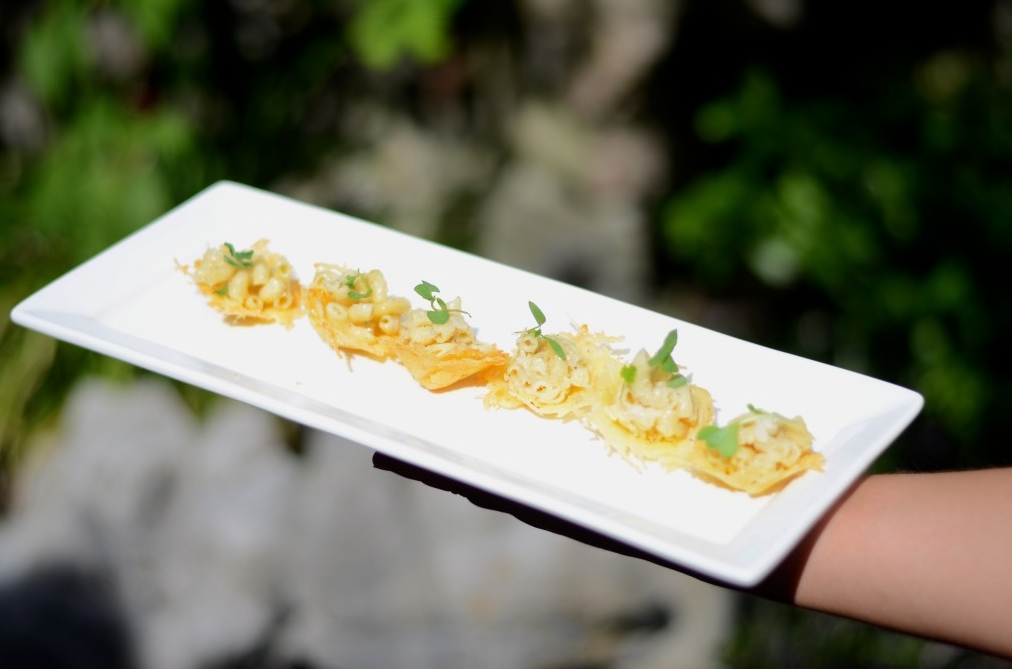 Then to finish things off on a sweet note, Brandon brought in some desserts made by his friend Mark from MARKED edible designs. We had Mark's signature earl grey and lychee macarons and a lactose free coconut milk creme brulee, and all the guests loved everything about them!
But yeah, that was pretty much the wedding food in a nutshell! Make sure you check out Brandon's site as well if you're interested in future events of any kind that you want catered! Plus, he's a super fun person so feel free to bother him on his social media accounts as well 🙂
Twitter @boywithaknifeca
Instagram: @boywithaknife
Facebook: www.facebook.com/boywithaknife