Popping my Pavlova Cherry
Desserts have never been my thing. Usually whenever I see a chocolate cake recipe or something, I take one glance at the ingredient list, directions, and I'm just immediately all "No.". Not that I'm lazy or anything, it's just that I don't like having to tinker with a million things to make sure that my icing doesn't curdle, or that my cake rises properly, and so on. Cookies on the other hand, I'm okay with. Well anyways, I've been watching a whole lot of Donal Skehan on YouTube lately, and man I love the guy. He brings such a great amount of quality content to the YouTube front, and everything he makes looks ridiculously delicious. The other morning I was watching his pavlova cake recipes, and it reminded me about how I've always wanted to make a pavlova ever since seeing queen Nigella make them on her show all those years ago.
For those who don't know what a pavlova is, it's more or less a meringue with a crisp outer coat and a crazy delicious marshmallowy centre. Usually, it's dolloped with cream and fruit, and left to sit for a little while to let everything marinate. What then happens is that the meringue absorbs moisture from the fruit juices and the cream, turning the entire thing into one smooth, voluptuous, and divine creation.
But of course, I had to put my little twist on it. First of all, I didn't have passionfruit or kiwi, which are Nigella's go-to fruit for her pavlovas. So instead, I decided to crack open the pomegranates I had lying in my fridge and threw those little arils all over the white meringue disks. Also, instead of cream, I decided to use greek yogurt instead because you know, I'm always trying to make things a little healthier where I can. It came out way more delicious than expected. You know those little asian yogurt drinks that you buy in tiny little plastic bottles? Well this is what it tasted like. Totally reminiscent of my childhood, and I was flooded with nostalgia. My parents basically devoured the entire thing while watching a movie on Saturday night!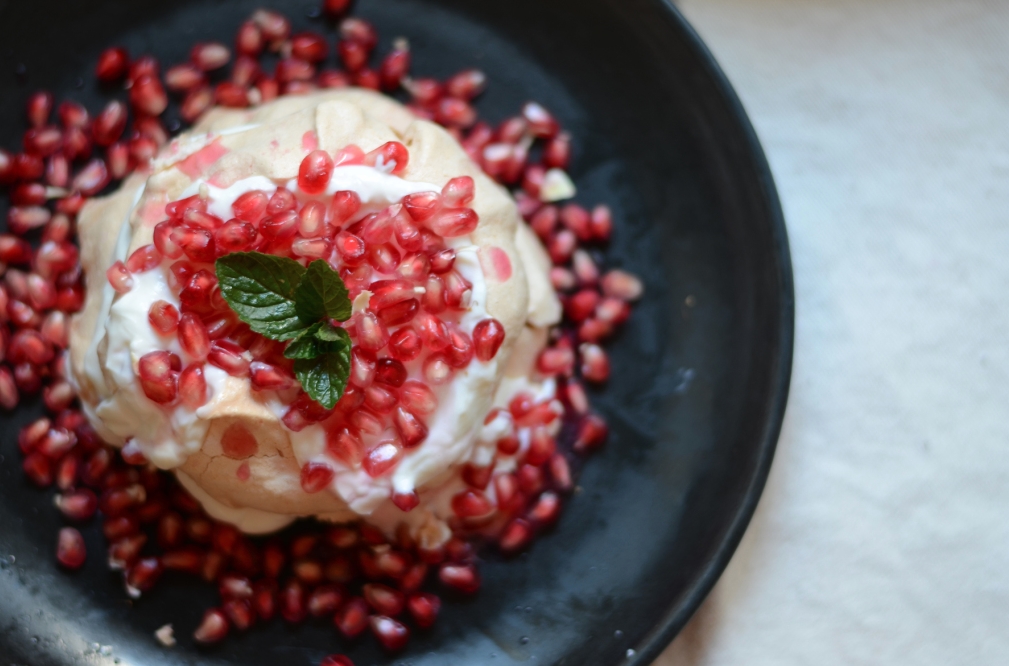 Of course there are a million variations you can put on this. I know both Nigella and Donal have created chocolate versions with cocoa powder thrown into the meringue mixture, but you can also just use any kind of fruit you'd like. I'm sure it would be a lot better with fleshier, juicer fruits such as mangoes, passionfruit, kiwi, and berries although I'm sure jams and jellies would be fairly delicious as well. Anyways, the possibilities are endless.
One of my favourite things about pavlovas are the fact that they just give off that rustic elegance that I'm such a big fan of. You know how sometimes you try to make food look all pretty and you just end up with a mess so you just call it "rustic and homemade" to make it seem okay? Well with this, you can just be all "Yeah. It's meant to look like that." with confidence and be proud of it. Oh – and I believe you can freeze meringues so you can just keep pavlova disks in the freezer and pull them out and make a little pavlova cake on short notice whenever you have company over or something too. Having backups in your freezer is basically the key to becoming a full fledged domestic goddess isn't it?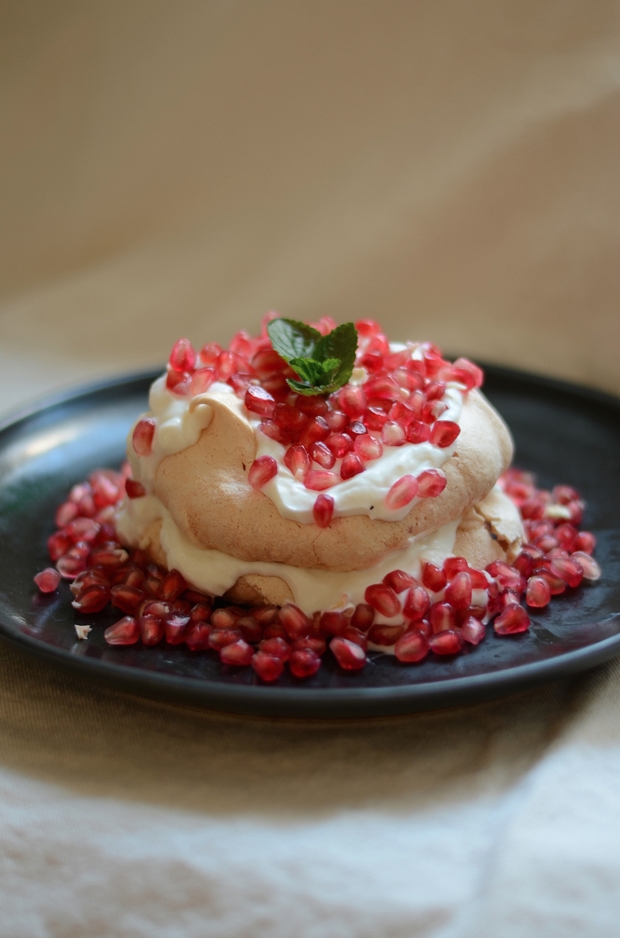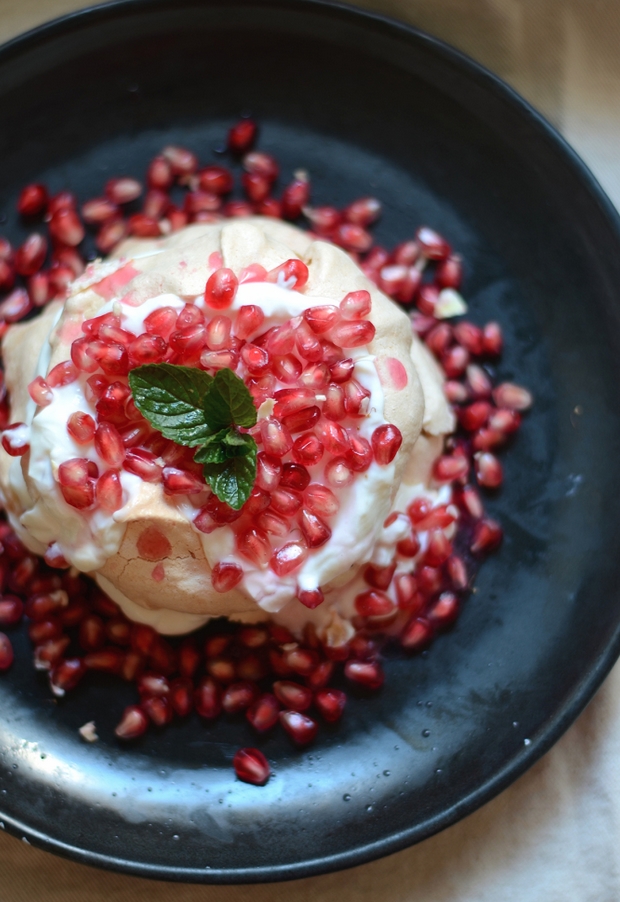 Pomegranate Pavlova Cake
Makes one, two layered 9″ cake or just make them into smaller cakes
Ingredients:
– 4 egg whites
– 1 cup of sugar
– 1 small tub of greek yogurt
– 1 pomegranate
– 2 tablespoons of corn starch
– 2 teaspoons of apple cider vinegar
– 1 teaspoon of vanilla extract
Directions:
1. Beat the egg whites until you've got stiff, but not dry peaks
2. Gradually whisk in the sugar until you've got a nice glossy meringue that will hold its shape
3. Mix in the vinegar, corn starch, and vanilla extract.
4. Line two baking sheets with parchment, and dollop the meringue mixture onto them into rounds. Shape them however you want, but try your best to make them "mountainy" and not too flat. Remember that it will flatten out later on through the weight of the fruit and yogurt.
5. Place into a preheated 300F oven for one hour, and turn off the oven and leave them in there to cool down with the oven.
6. Once cooled, spoon the yogurt on top of the rounds and decorate with fruit, in whatever fashion you feel like!