And the Cookie Marathon Begins…
Guess who's finally done exams?! Me!!! Okay, so I really didn't have very many to do this year, but it doesn't mean my life sucked any less for the past two weeks. Well anyways, it's kinda become part of my Christmas routine to have a little cookie baking marathon after my exams are done, and this year is gonna be pretty freaking great. However, I am having difficulty deciding what to make this year though, because I am the most indecisive person ever when it comes to these things. One second I'll be all "Oooh! My macaroons! I'll make my macaroons!" and two seconds later I'll be all "BUT WHAT ABOUT SNICKERDOODLES?!" – it's an ongoing problem. But to start things off this year, I really had to make my chocolate crinkle cookies from last year, but with a little twist this time around.
So I'm sure you guys all know who Laura in the Kitchen is, because you know, she's Laura. Well anyways, she posted a video of her red velvet crinkle cookie kisses the other day, and I thought it would be the coolest idea ever. I pretty much threw everything together, and when looking for the red food colouring, which was the last ingredient, I realized I had completely run out. Annoyed, I put my magical improv hat on and decided to stay on track of the whole crinkle cookie thing, but to ditch the red velvet, add more chocolate, and toss in some black sesame instead. I mean, Christmas is one of those times where I feel like people should just stick to tradition. So that means no deep fried turkeys, no apple pumpkin rainbow sprinkle cheesecakes with peppermint oreos, and all the crap along those lines. That being said though, I think making subtle changes to traditional recipes refreshes it a little bit, and gives things bit of an "Ooooooh" factor, which is what I really think the black sesame does here. If you've never had black sesame before, it lends a very smokey, nutty, and rich taste to whatever it's put in which I thought paired really well with chocolate and cocoa powder. That being said, I might be biased because I absolutely love black sesame desserts and grew up eating them.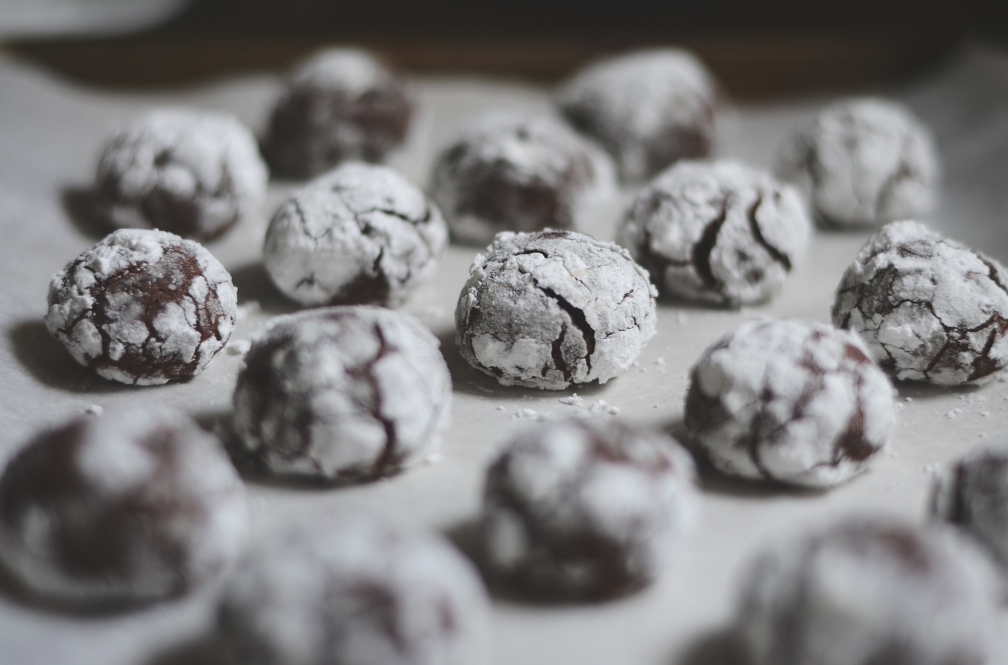 But I think that this cookie deserves to be made at least once, just for appearances alone – how could anyone possibly not love the snow covered look of them?! And those cracks?! I swear they're amongst the most beautiful cookies on earth. Paired with a mug of coffee or hot chocolate (obviously with a swig of Bailey's) and you're in heaven, no lie.
Black Sesame & Chocolate Crinkle Cookies
Makes about 30 cookies
Ingredients:
– 1/3 cup of butter (room temperature)
– 2 large eggs
– 1 1/3 cup of all purpose flour
– 1 tsp of baking powder
– 1/2 tsp of salt
– 2/3 cup of sugar
– 50g of dark, semisweet chocolate
– 3 tablespoons of cocoa powder
– 4 tablespoons of ground black sesame
– 1 tsp of vanilla extract
– powdered sugar for rolling
Directions:
1. Beat your sugar and butter together until creamed, and whisk in vanilla and eggs one at a time until mixture is pale, light, and smooth.
2. In a separate bowl, sift together the flour, salt, cocoa powder, ground black sesame, sugar, and baking powder.
3. Grate the chocolate in a microplane or just a cheese grater and place into dry ingredients as well.
4. Incorporate the dry ingredients into the wet ingredients, and mix. You'll probably find it easier to use your hands after a certain point.
5. Chill the mixture in your fridge for at least 20-30 minutes, just long enough to firm up a little bit.
6. Preheat your oven to 350F.
7. Take your cookie dough out of the fridge and roll out 1 to 1.5″ diameter cookie balls and toss them into a bowl of powdered sugar until they're completely covered.
8. Bake in the oven for 10-12 minutes until they've cracked.
** the longer you leave them in, the more dry and "biscotti" like they will be. I prefer the outside to be crisp and insides to be a bit on the fudgey/brownie side so 10 minutes is perfect for me.
9. Let them cool, and they will deflate a little bit.
10. Engorge yourself!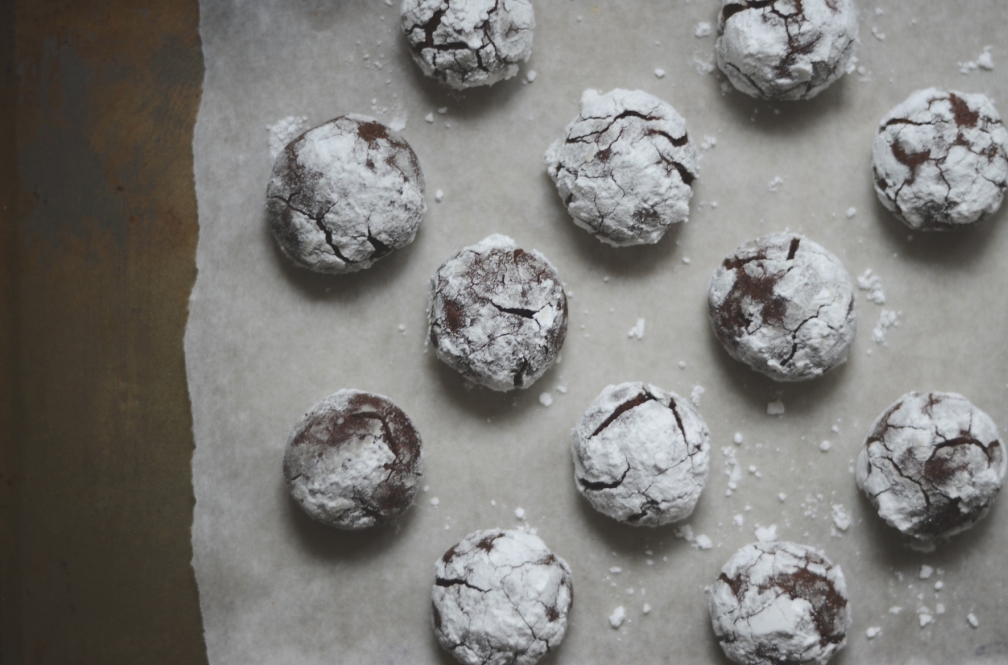 And there you have it! Make these for your Christmas parties this year, or just to give to people as little edible gifts! I mean, who doesn't like receiving cookies as presents?!