The Hunt for the Perfect Gingerbread Man!
Holy crap, Christmas is just speeding towards us like a runaway train isn't it?! I swear, every year I'm so enveloped in school mode and then come mid November, some switch in my head clicks and suddenly I'm busting out Christmas carols and decorations at 3 in the morning and planning out what edible gifts I'm giving out this year. But we're officially one week into December and I'm reading to prance around the tree, loudly (and badly) singing along to Santa Claus is Coming to Town with a huge mug of tea in my hand and cat in the other.
It's basically been tradition that I give most people edible gifts for Christmas – okay well, it's been tradition ever since I started doing it last year, but yeah. I mean, there's nothing wrong with buying boxes of cookies and chocolates from Costco and gifting those, but there's just something about the added sincerity and love that gets put into edible gifts that just embodies the spirit of Christmas! I try to have a theme every year, just so there's some cohesiveness in everything I make. And yes, that's just me trying to act like my thought process is always very well thought out organized. Last year I was in a whole middle eastern mode, making rosewater and cardamom biscotti and coconut and pistachio macaroons.
Now this year I'm all about the warm, enticing, and ceremonious spices. Obviously there's going to be tons of cinnamon, ginger, cloves, and the Christmas essentials, but some pretty unique ones like black peppercorns, star anise, and juniper berries that don't get used quite that often. Basically everything you'd find in gingerbread – but with a kick. So this holiday gingerbread recipe is the perfect way to segway into the procession of holiday recipes I have coming up right?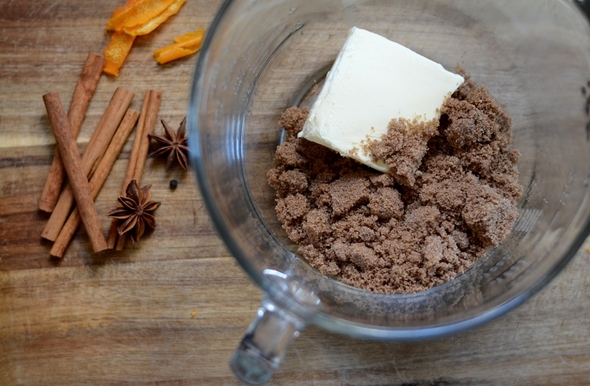 If you've noticed something different about some of my photos this post – you're one smart cookie! My friend Christina has just started her own calligraphy business Fox & Flourish, and holy crap is she ever talented. She asked if I wanted to collaborate on one of my blog posts, where she could use her fancy shmancy skills to decorate and write over my photos and you now how sometimes you wait a little while before replying to someone so you don't come off desperate? Yeah – forget that, I was pretty much like "HELL FREAKING YES!" literally two seconds after I got her message.
If you're in need of anything done like custom Christmas card lettering, or any sort of design work, you need to hit her up because she'll knock the socks right off your feet. Also, her Instagram is full of beautiful calligraphy photos – so I don't know, would you call that font porn? Writing porn? Calligraphy porn? Who knows, but they're some sexy ass photos.
So you know, feel free to just spend a few minutes of your day admiring how beautiful her writing looks over my photos!
Anyways, back to these cookies! Can I just talk about how I literally had to spend an entire morning hunting down a gingerbread cookie cutter the other day?! You would think that every single store on earth would carry one, but you'd be wrong wrong wrong. All the stores I went to either had none or they would have the ugliest – like, SERIOUSLY ugly gingerbread man cookie cutters that made them look like they were on the verge of being spliced like they did to people who had a death sentence over their heads in the middle ages. Ick. But thank the good Lord because I finally found one 2.5 hours into my search.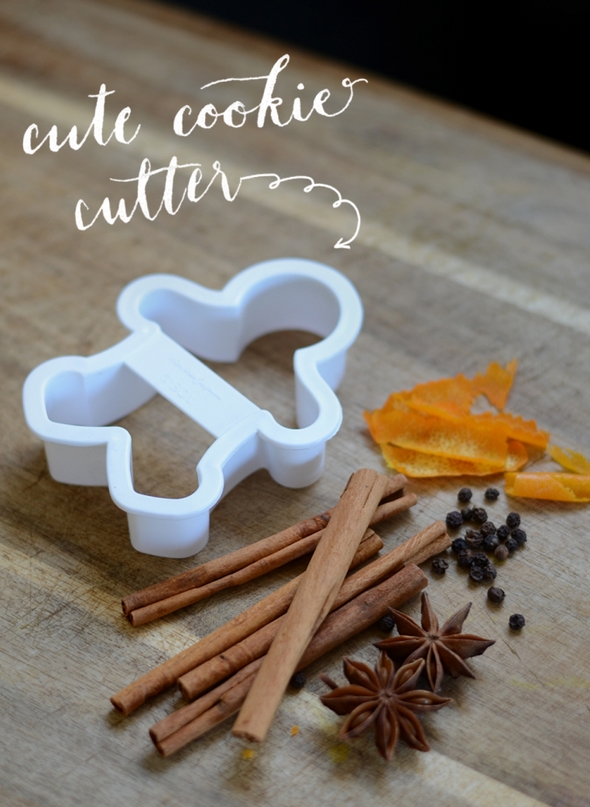 Can I be honest for a second? This is actually the first time I've made gingerbread since I was in kindergarten. So… it's been 1..2… about 16 years. Yeah. When my mom called me to see what I was doing and heard that I was making gingerbread, she was all "Oh God I hope they're not as nasty as the ones you made in kindergarten." Way to have faith in me mom. But hey, she loved them in the end and basically asked me to Whats App all these photos so she could send them to her friends and relatives to make them jealous – so if that's any indication of how good these guys were…. 😉
There's a few optional spices in here, and I'd leave them out if you're not adventurous, but if you like to have a little excitement and a little something unique, throw them in because they give an incredible complexity to these cookies. Obviously you'll taste the ginger, cinnamon, and cloves you typically find in gingerbread but then you get that slight heat of black pepper at the back of your throat, that's then matched by the aromatic headiness of star anise. It's practically a religious experience!
Holiday Gingerbread
Makes about 24-30 cookies depending on the size of your cutters
Ingredients:
– 1/3 cup of butter (room temp)
– 3 cups of AP flour
– 1 1/2 tsp of baking powder
– 1/2 cup of molasses
– 1 tbsp of ginger
– 1 1/2 tsp of cinnamon
– 1/2 tsp of cloves
– zest of an orange
– pinch of salt
– 3/4 cup brown sugar
– 1 egg
– 2 tsp vanilla extract
– 1/2 tsp of ground black pepper (optional)
– 1/2 tsp of ground star anise (optional)
Royal Icing:
– 1 cup of icing sugar
– 1 egg white
– pinch of salt
– squirt of lemon juice
– 1/4 tsp of vanilla extract
– food colouring (optional)
Directions:
1. Cream the butter and sugar together until it's a light and pale brown and then beat in the egg.
2. In a separate bowl, sift together the flour, baking powder, salt, spices, and orange zest.
3. In the bowl with the butter, sugar, and egg mixture, mix in the molasses and vanilla until smooth and well incorporated.
4. Slowly mix the dry ingredients into the wet mixture in a few separate additions until a smooth dough is formed.
5. Let the mixture rest for at least 1-2 hours in the fridge. This is super important, otherwise you'll be left with a super soft mixture that you can't cut or move onto the cookie sheet.
6. Once it's rested, roll it out to about 3mm thick and cut out into desired shapes.
7. Place into a preheated 375F oven for 8-12 minutes. The less time you have them in the oven, the softer they come out.
* You can freeze the dough for up to a few weeks so you can just make a huge batch and bake when you need it. Just bring the dough out like 30 minutes before you plan on baking so it has enough time to rest and warm up a little.
For the icing:
1. Whisk the egg whites until foamy and start to add the sugar gradually.
2. Once things start to look marshmallow-esque, add in the salt, vanilla, lemon, and colouring.
3. Beat for another 6-7 minutes until super thick and glossy.
4. The frosting will set hard & matte, so leave it to rest once you're done frosting for it to harden!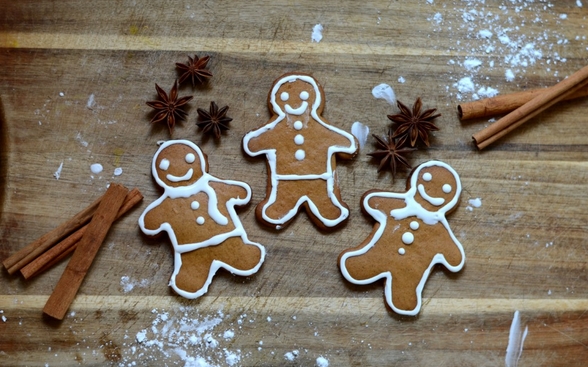 So make sure you decorate them, make them super pretty, and all your friends and family will love them! Also, who needs a gingerbread candle when your house can smell this freaking good when you bake these cookies?!
Let the Christmas spirit set in and enjoy!