Jason's Test Kitchen – Chicken Lettuce Wraps
Oooooh my gosh – this is a good one. So for the past 8 months (holy moly time flies), I've been working with one of the most amazing dietitians ever named Desiree, and she's been basically showing me around the field of dietetics! It's been so much fun hearing about her journeys to conferences in Victoria, giving talks up in Northern BC, while also juggling duties as a mom AND writing a book!
I mean, she's a total iron lady – a very healthy one!
One of my favourite things I've been doing with Desiree is just a lot of graphic design and social media planning to launch her book, Un-Junk Your Diet that is scheduled to be released in August of 2014! So I've been doing shopping lists, meal plans, and some recipe testing for Desiree, which leads us to today's post! I was super excited when Desiree asked me if I would be interested (who could say no!) in making a few of the recipes from her new book, and of course, I was totally up for it. She's so fantastic too – she sent me the most paleo-friendly ones so I wouldn't have to stray too far, if at all, from my own diet!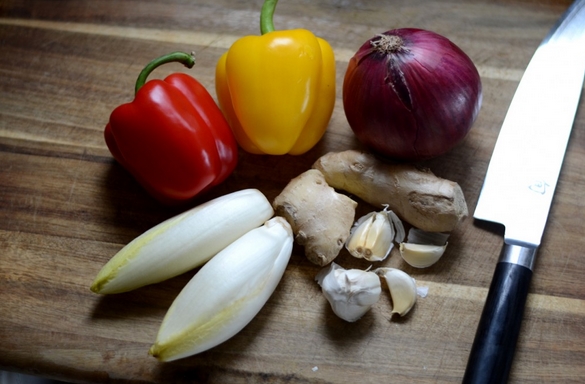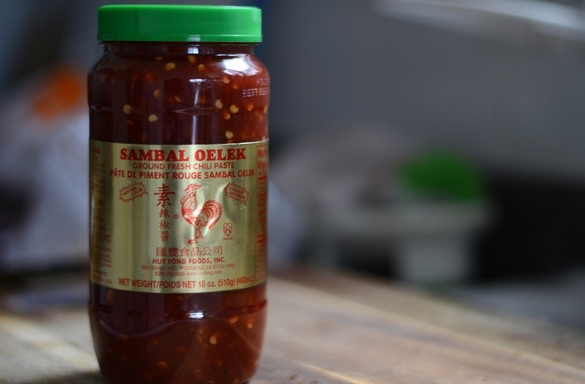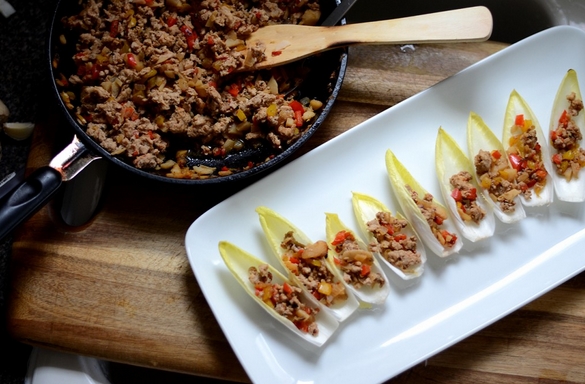 These chicken lettuce wraps are SOOO freaking good, and the recipe includes a fantastic asian spin on this classic! Yeah I know, I used endive in my recipe but they had really ugly heads of lettuce at the store, and we all know we eat with our eyes first 🙁 Also, I can't believe how long I've lived without Sambal! It's the most delicious chili sauce, and it adds such a depth of flavour to anything you add it to! Thank gosh I bought a big jar!
Also, can we talk about how ANNNOOOOYINGGGG it is to try and take photos when its rainy and gross outside? It was dreadful trying to get enough light to come through, but hey, I guess that's one of the challenges of super duper low budget photography! Woohoo… haha!
But anyways, here's the recipe, straight from Desiree herself!
Ingredients:
Serves 4
1 lb (500g) lean ground turkey or chicken
1 tbsp (15 mL) freshly grated ginger root
2 tsp (10 mL) canola oil
½ purple onion, diced
1 red bell pepper, diced
1 yellow bell pepper, diced
1 can (8 oz/227 mL) sliced water chestnuts, chopped
¼ cup (60 mL) hoisin sauce
¼ cup (60 mL) water
3/4 tsp (4 mL) Chinese five spice mix
¼ -½ tsp (2-3 mL) sambal oelek or dried chilies
1 carrot, grated
1 head iceburg or Butter lettuce, leaves left whole, washed and dried
Directions:
In a skillet over medium heat, cook ground turkey and ginger for 5 to 6 minutes or until cooked through. Set aside.
In the same skillet, heat oil over medium heat. Add onion and sauté for 2 minutes. Add bell peppers and sauté for 3 minutes. Add cooked turkey and water chestnuts and stir to mix. Add hoisin sauce, water Chinese five spice mix and desired amount of sambal oelek or dried chilies. Stir to combine. Cook until heated through.
Place the grated carrots and lettuce leaves on a large platter with the turkey and vegetable mixture in a bowl. The lettuce wraps are best assembled individually at the table. Top each leaf with turkey and vegetable mixture and grated carrot, wrap and enjoy. Lettuce wraps can be served hot or cold, as a meal or an appetizer.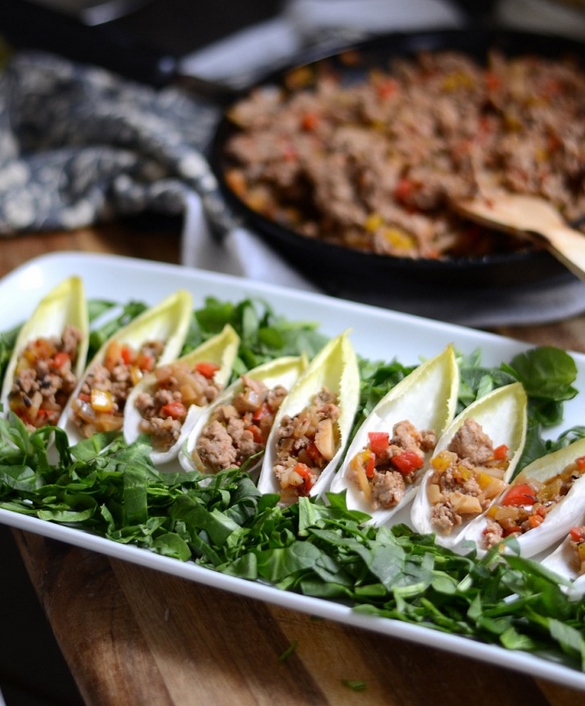 Mmmm….. so good, so fresh, and so easy. Make sure you give it a try, pre-order Desiree's book, and let me know how you like it!
You'll definitely wanna follow Desiree on twitter, Facebook, and YouTube, because rumour has it that there may be free meal plans and goodies to be given out in the near future 😉