Bruised Apple Galettes & Butter, Butter, Butter!
Butter is beautiful – things are just better with butter. Someone bring me a butter scented candle while I write this post please?
I mean, how can anyone resist the warm scents of melting butter and cinnamon wafting through the air on a cold autumn morning? Hey Bath & Body Works, I've just given you an idea to capitalize on. Make it happen. Now.
So if you couldn't tell, I'm a big butter fan, so you can only imagine how much fun I had making this recipe the other day. Again like with my Fennel, Citrus, & Parsley Salad, this was created for my term project which you can read here. This entire galette cost me $3 to make. The apples only cost me 75 cents. Yeah. 75. freaking. cents.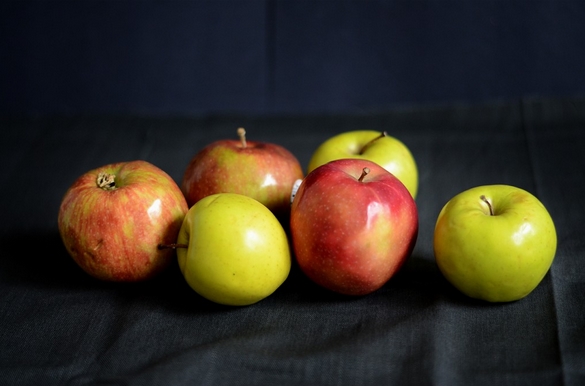 Yeah, yeah, I know. They're bruised and damaged but what do you expect for 75 cents?! But if you haven't read my term project, I was basically trying to show everyone how we could reduce food waste and increase our own purchasing power by buying cheaper, damaged produce that is still 90% edible for the most part. You just gotta take some time to cut off a bruise and a knick here and there. The amazing thing was that some of these apples were actually grown locally as well, and they were absolutely delicious. Actually, so delicious you'd forget for a second that you had to wander into the shadiest part of town, evade a few prostitutes, and bathe in some hand sanitizer just to pick these guys up.
I've been meaning to make a galette for some time now, not because I enjoy eating them though. Actually, I don't eat any of the baked goods or desserts I make. Weird right? I literally smell them, take a few photos, and pass them onto hungry mouths. First of all, galettes are so beautiful and they're sitting on the perfect balance between elegant and rustic. Second of all, galette is just the cutest word ever. I mean, say it a million times and it's like petting a kitten… but verbally.
Galette.
Galette.
Galette.
Galettey.
Getty.
Kitty.
Yay for kitties.
*cough*
Anyways, I spent the better half of the morning wrestling with a pile of pastry while Nugget sat in my chair playing with some cranberries. That cat is ridiculous let me tell you. I really need to work on my pastry skills because I'm waaaaaay too freeform in the kitchen. I'm just all "Well lets just smack this a little here, a little there, oh some ginger would probably be nice! Wait – did I put any sugar in yet? Haha well who cares lets just add some more!"
It's chaos I tell you. But as long as the end product comes out nice, who's complaining?!
So give this recipe a try, and your kitchen will smell like heaven. Your friends and family will love you – your waistline though? Not so much.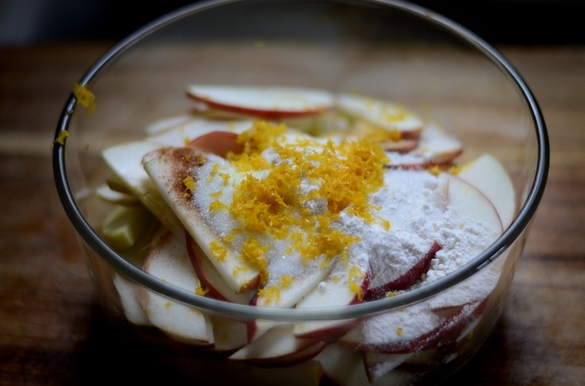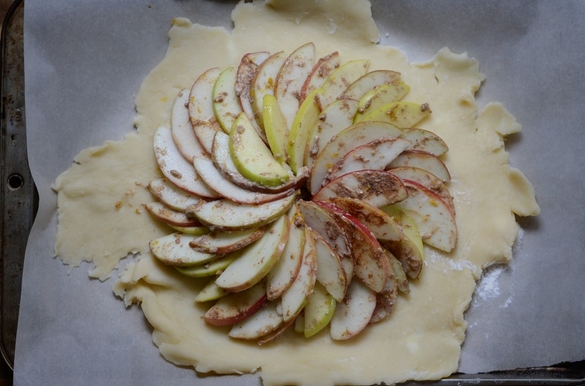 Ingredients:
Makes one 14″ galette roughly
For the Pastry:
– 1 cup of AP flour
– 1 stick of unsalted butter, ice cold, cubed
– 2 tablespoons of granulated sugar
– 2 tablespoons of orange juice
– 1 teaspoon of salt
For the Filling:
– 3 medium to large apples, I used mixed ones but Granny Smiths are my favourite, sliced thin
– 1 teaspoon each of cinnamon, ginger, and allspice
– 1 teaspoon of salt
– 1/4 cup of brown sugar
– 1/4 cup of flour
– 1 tablespoon of orange zest
Directions:
1. To make the pastry, flutter the cold cubes of butter through your fingers in a bowl with the flour, sugar, and salt until it resembles crumbly sand.
2. Add the orange juice and work it into a dough, wrap in cling film and chill while you get the filling ready.
3. Sift together the spices, salt, brown sugar, zest, and flour in a separate bowl so that they're evenly mixed.
4. Slice up your apples and toss in the mixture and allow that to sit for about 20 minutes to let the juices from the apples drain out.
5. Roll out your pastry – yes, this takes a bit of whacking into submission when it's nice and cold but you gotta do it this way or the pastry will melt, until it's nice and thin. I suppose the size will vary, but mine was about 14″ or so.
6. Arrange your apples around the rough however you want, I just did them in circles, leaving about 1.5″ of pastry around the apples.
7. Fold the edges over nicely, and place into a preheated 450F oven for about 20-25 minutes.
8. Serve with whipped cream, vanilla ice cream, or just eat it like a pizza because you're just gangster.