Pretty Plates & A Rocking Radish… Dish
Deck the halls with boughs of radishes, fa la la la la… la la la! That is how the song goes, right? Yeah, I'm pretty sure I'm right.
I mean, you just can't help but to think about Christmas when you look at a bunch of radishes. You want proof? Okay – one sec…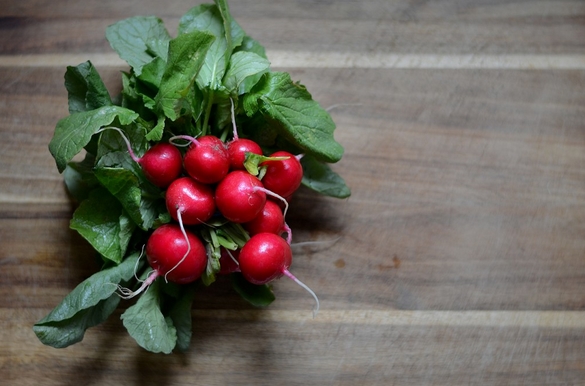 It's basically an edible version of holly… sort of. Although radishes are rather mild in flavour, I betcha didn't know that they're fantastic for you! Oftentimes we're told that the more colourful, intense, or flavourful a vegetable or fruit is, the more antioxidants and vitamins they have. That is true for the most part, but you do have your exceptions! One exception for example, are white peaches, which have more antioxidants than their yellow cousins! In the case of radishes, they might not smack you in the face with a bat in terms of flavour, but the amount of goodies they bring into your body is ridiculous.
They're chock full of Vitamin C, water, fibre, B complex vitamins, phosphorous, and folate just to name a few things. Some people even swear that it can kick ass in preventing cancer! Obviously there's many varieties you could get, such as watermelon radishes, daikon (japanese), easter egg, and the list goes on. You could pickle them, serve them raw, roast them, or slice em' thin like I did!
Anyways, blurb about radishes aside, can we talk about how pretty my new plate is?! I picked it up yesterday at Chapters, as part of their "Artisanal" collection. It was only $12, and it's just so pretty. I sent a text to my friends with a photo of the shelf with the collection and the caption "Oh my God I'm having an orgasm". Needless to say, my friends don't understand how the aesthetics of a perfectly rustic but elegant piece of dinnerware can be such a turn on. Oh – and neither did the cashier at Chapters. But hey lady, why would you ask me why I'm buying only one plate if you're not even interested in my answer?! The look she gave me when I was squealing about how fantastic it was going to look in photos warranted me the most ugly and judgemental "Haha… okay…… if you say so" look, complete with an eyebrow raise and smirk.
Whatever. I'm not bringing you any cookies this Christmas.
Also, I forgot to mention that the whole intention of my shopping trip was to buy my dad a birthday present. I left with two bags of groceries, some new stoneware, my new plate, and nothing for my dad. So all in all, a very successful trip. Anyways, today's recipe came about when I saw the cover of David Tanis' book One Good Dish. I never realized how beautiful radishes could be, so I knew I had to go get some, and play with some food geometry!
With some snap peas, pomegranates, parsley, and a dill yogurt dressing? To die for.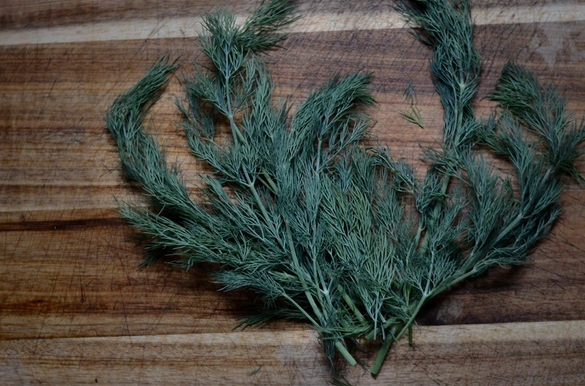 Ingredients:
Serves 2-3
– 1 head of red radishes – so about 10-12 individual ones?
– 1/2 cup each of parsley and dill
– 1/2 cup of pomegranate seeds
– 1 1/2 cups of snap peas
– 1/2 cup of greek yogurt
– 1 teaspoon of ground coriander and/or cumin
– pinch of salt & pepper
– drizzle of good quality olive oil
Directions:
1. Cut off the radish leaves and set aside – they're edible and delicious!
2. Chop up your dill, leave a few frauns to toss throughout the salad, and combine with greek yogurt, coriander, cumin, salt & pepper for the dressing.
3. Slice your radishes into thin rounds, and cut some into halves and quarters just for some difference.
4. Slice your snap peas on a diagonal, so they can be evenly dispersed
5. Toss with the pomegranate seeds and parsley, and drizzle everything with some good quality olive oil.
6. Dress with the greek yogurt sauce at the table!
And of course… try it, leave a comment, share the recipe, you know the drill!