Oricchiette w/ Chorizo and Peas!
Bon matin, tout le monde!
So here's the thing – as you may know, I am a total Nigella Lawson fanatatic *cough* hence the name of my blog *cough* but I am unfortunately paleo (well, it's not that unfortunate) and I'm always watching my carbs. Therefore, I'm stuck in a sticky sticky situation where I am absolutely obsessed with her cooking but can't eat the majority of it. But that doesn't stop me from cooking like her, and you guys know why?!
…. it's because I have two hungry hungry hippos for parents!
(P.S, I mean that in a good way)
I'm always practicing my pasta dishes and feeding it to my parents just so I have an excuse to cook like the domestic goddess herself, and I spent the better half of Tuesday afternoon lounging around in the backyard, flipping through her books. So after I went out for sushi with my friend that night, we stopped by the grocery store and picked up a few goodies so I could make my parents this nice little oricchiette dish!
I mean, we all know Nigella is the queen of frozen peas and chorizo, so I feel rather obligated to call this dish "the Nigella", which is totally justifiable, right?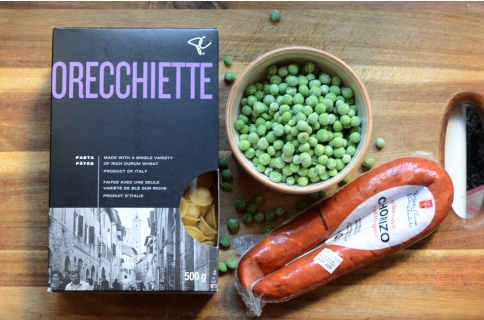 Ingredients (serves 2):
1.5 cups of dried oricchiette
1.5-2 cups of frozen peas
1…. big hunk of chorizo (use as much as you'd like. My dad likes his meat so I used quite a bit 😉 )
1/2 cup of chicken stock
2 cloves of garlic
olive oil
salt & pepper
Worcestershire sauce
Directions:
Cook your pasta according to directions. Be VERY diligent to break apart oricchiette when you're cooking it, because they tend to snuggle up with each other (cute in theory, annoying in reality), which causes it to unevenly cook. SALT THE WATER!!!!!!
Save about 1 cup of pasta water, and drain.
In a pan, throw in some olive oil and throw in the chorizo after you've sliced it into little rounds? nipplets? Once fragrant and after they've given off some of their paprika filled juices, throw in the minced garlic. Start seasoning with a bit of salt & pepper.
Then, toss in the frozen peas and chicken stock and when everything's nice and warm, toss in the pasta, and mix, mix, mix. Add in a dash of worcestershire to taste. Keep stirring until you've got a nice thick sauce, and add some of the pasta water you've saved if you need any.
Sprinkle with some parsley if you'd like, or if you feel like living dangerously, whisk in a few knobs of butter for some extra sexiness.