Jason Reviews: Martin's Marvelous Naturals!
Hey guys! So I don't know about you, but every time I eat something that's locally made, handcrafted, or ethically sourced, I feel as though I'm somehow connecting with the earth and that I'm doing some kind of good… or something. Okay – I know, that sounded super hippie and I promise you, I'm not writing this post with a daisy chain around my head while doing some hula dance, swaying my hips to Stevie Nicks in the background.
For instance, when I stir in a tablespoon of local wildflower honey from the flowering stretches of the Okanagan into my tea, I feel like I'm being more deeply rooted in my surroundings, and perhaps it's some weird and twisted form of the placebo effect, but I swear, it just tastes/makes me feel better. A few weeks (okay or maybe like, two months) ago, I was sent a huuuuuge box of products by the ever so lovely Kalpna Solanski from Martin's Marvelous Naturals. If you're from Vancouver, I'm sure you know of the company, because they've been at the Gluten Free Expo, Choices Markets, Urban Fare, and basically every cool place imaginable.
Martin's Marvelous' products places a huge focus on sourcing fair trade and organic products that are made in Burnaby and then distributed to a wide array of distributors. I believe you can even get their products in the states if you order via Amazon now! One outstanding feature of the company is that every single one of their products are gluten, and nut free. Yeah. That basically eliminates the majority of all the insensitivities and allergies related to food that people have nowadays. Raise your hand if you had at least one person who couldn't eat anything at one of your dinner parties this past holiday season because you forgot to get gluten free crackers or something. Or maybe you were even the one person who had to fill their stomach up on wine (not a bad problem though) because they couldn't eat anything served at the company cocktail party. Yeah – it sucks right? Well all the products under Martin's Marvelous Naturals line are sure to satisfy even the pickiest person who just so happens to also be allergic to 90% of the items on God's green earth. Bottom line? If you're someone who is health conscious & loves to snack or entertain people with wine, cheese, and crackers, these are the products for you. Actually, these products are just for everybody. Yeah. They're that good.
Speaking from personal experience, if you hand a cracker or cookie to me and tell me its gluten, and nut free, I'm basically expecting that I'll spit it out when you're not looking. Why? Well because the majority of the time, those products taste like crap because of all that different gums, extracts, and weird chemicals in them to take the place of gluten/nuts/grains. Well Kalpna's products completely changed that for me. You can just tell that there's been tons of time spent refining recipes, tweaking amounts of certain seeds, finding the best complimenting flavours to put together, and so on. So here's what I received in the box of goodies:
Martin's Marvelous Crisps:
Rosemary & Lavender –  this was seriously amazing. I was afraid it would taste like a bar of soap or my grandma's house, but it was the perfect balance of floral and herbal notes. Pair it with a mild cheese like brie or even some pate!
** in the picture at the top of the post, I roasted some acorn squash with some olive oil, garlic, and fresh rosemary, and finished it with some good grassfed butter and pepper. So delicious paired with some grapes and mild cheddar too!
Pumpkin Seed Cranberry – super yummy. Can you imagine how good this would be with a bit of cold leftover turkey, a good wedge of camembert and a dollop of cranberry sauce?!
Chocolate Molé – these ones were so complex, rich, and decadent in the most savoury way possible. I have no idea how long it must've taken them to balance out all the ingredients in this one, because it was seriously intense and amazing. Probably my favourite of the bunch! Try it with some hummus or smoked kidney bean dip!
Date & Olive Tapenade – (pictured below) this one was fantastic as well! I was expecting it to be sweet because of the dates, but the dates just leave a nice hint of sweetness to balance out the salty tang of the olives! I believe Kalpna and the crew have tweaked the recipe slightly since I've received the products, so it must be even more amazing now!
** in the picture below, I paired the crackers with a curried chicken that I slow cooked in green coconut milk, then finished with a good squeeze of lime!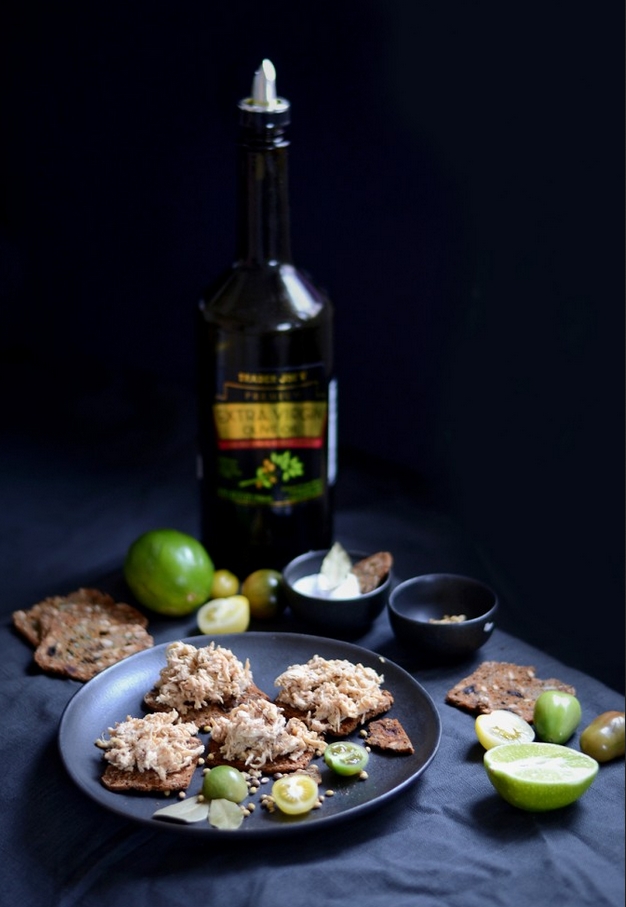 Martin's Marvelous Cookies! – these are all completely nut, gluten, and egg free!
Classic Chocolate Chip – these were so reminiscent of Chips Ahoy, only difference is that they're much better for you! All you need is a glass of milk and some warm PJ's to have a perfect night in!
Refuel – packed with energizing products like seeds and dried fruit, as if you needed another reason to indulge in these amazing cookies!
The company also offers products like granola, fig salami (so good, I had a piece at the Gluten Free Expo last year) and Zesty Lemon cookies! If you didn't know, oats are technically gluten free by nature, but a lot of the times, they get contaminated in the processing plants. However, Martin's Marvelous makes sure that all the oats that they use in their products are completely uncontaminated and 100% gluten free, so you can munch away on the products without a worry! Yay 😀
As far as I know, you can pick these products up at London Drugs, Whole Foods, Choices Markets, Urban Fare, or find them at the Gluten Free Expo this year! Also, make sure you check out their Twitter.