Hey guys! So I've got some awesome news. It's been a long time coming, but I'm finally collaborating with the stunning, amazing, and absolutely flawless Fran from heyfranhey! Every month, Fran is doing an awesome health, beauty & fitness challenge where every week features a whole new superfood, beauty regime, and cool exercise so you can start to get healthy and gorgeous from the comfort of your own home!
So, I'm gonna be doing some MEGA AWESOME recipes for every single week! To start things off, let me explain what a superfood is. Technically speaking, there is actually no scientific criteria to describe a superfood. So REALLY, I could pick up a rock and say it's a wonderful superfood and it would be correct (although we all know it isn't). However, lets just be like most people & just generally refer to foods high in nutrients and antioxidants, while being low in calories as superfoods.
(Psst, after reading that, you should all know not to fall for marketing scams anymore! Don't buy every product labelled at superfood at your grocery store, because that's just a marketing scheme!)
Anyways, leeks are a fantastic source of nutrients that is mega low in calories. One entire leek is actually only about 38 calories, but the amount of vitamins and minerals you are getting is INSANE. Leeks are excellent sources of your vitamins A & E. They're both fat soluble vitamins that are incredibly important to your skin, eyes, hair, and membrane health! Also, they're a wonderful source of vitamin K, which is really important in ensuring that your blood can properly clot so clumsy people like me won't bleed out like a jellyfish out of water when they cut themselves!
They're also pretty darn spiffy sources for all your B-vitamins as well, so for all you athletes out there who want help in burning up those carbs, leeks are for you!
Back to the recipe! For all my readers who have been following me for a while now, you know I am ALL ABOUT the simple, quick, but yummy meals. I am so sick of people whining and complaining about having no time to make or pack their lunch! So, I decided to throw together a no-excuses salad!
This salad is not only mega quick (about 10 minutes to put together), it actually tastes better the longer it sits in a tub! So don't tell me you hate packing salads to work because things end up all soggy and stuff, because letting the leeks marinade in their dressing only brings out their sweetness and flavour even MORE!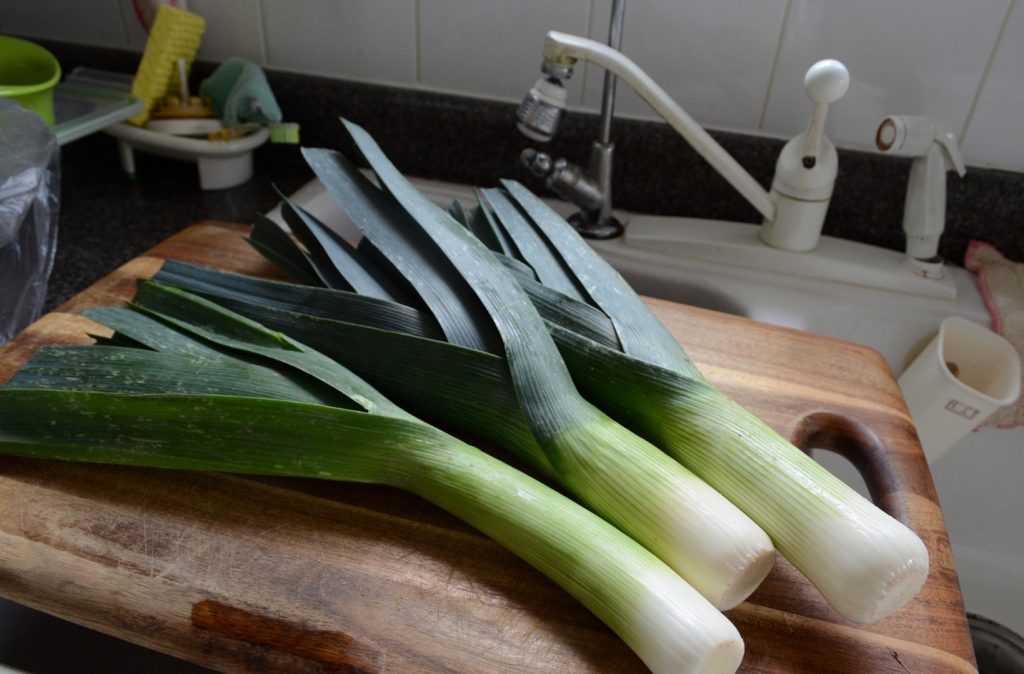 Ingredients (will serve 2-3 people):
– 1 small/medium sized apple (I used ambrosia)
– 3 small/medium sized leeks, whites and light green parts only
– 1/4 cup olive oil
– juice of 1 lemon
– salt & pepper
– 2 teaspoons each of dijon mustard and honey
– 1.5 tablespoons of greek yogurt
– 1/4 cup pecans
Directions:
NOTE: if you aren't using BABY LEEKS or don't like STRONG onion flavours, sauté your leeks in a bit of olive oil or blanch them first!!!
Trim your leeks, and slice them super thin and give them a good rinse in the sink. While they're draining, slice an apple as thinly as possible. Toss all of these into a large bowl and put the juice of half a lemon on top to prevent any browning!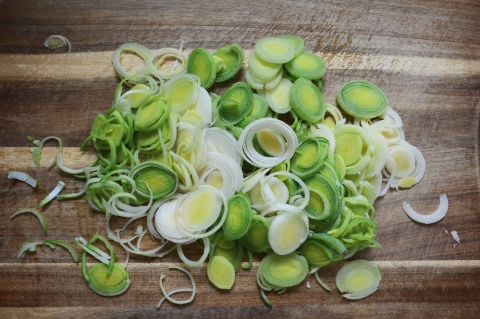 While that sits for a while, mix together the olive oil, salt, pepper, other half of the lemon, dijon, and honey in a bowl to make the dressing. When that's all well incorporated, mix in the yogurt and pour onto the leeks and apples. Mix very well and then serve with toasted pecans!
Also, raisins would be a darn awesome touch! This is a great salad by itself, but it's pretty darn amazing served as a side to some fish or whatever you my have! As I mentioned before, the longer this sits around, the most amazing it'll taste! So feel free to make it in a morning and throw it into your fridge for dinner later that day! 🙂